Berries and Cream Angel Food Scoop Cake
Cake is for life, not just birthdays.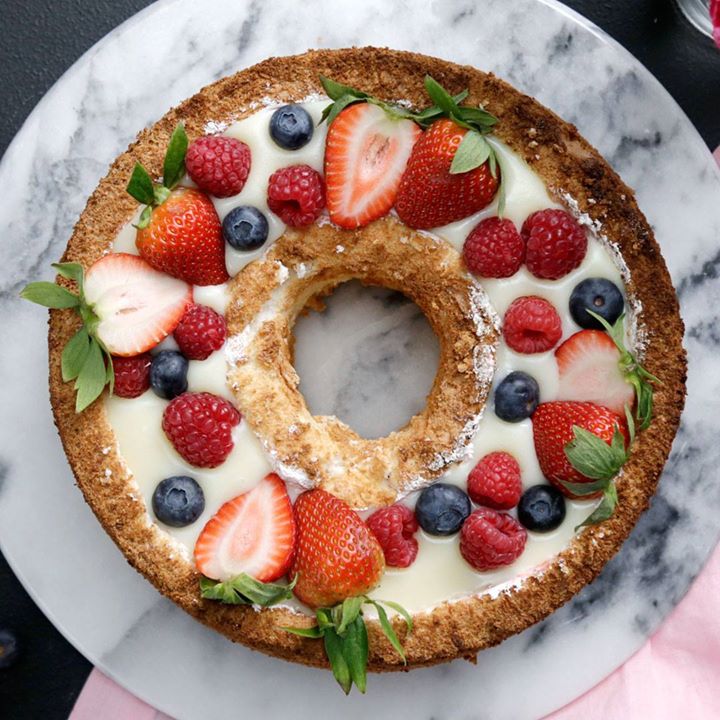 Ingredients
For the cake:
1 cup cake flour, sifted
1½ cups granulated sugar, divided
9 egg whites, room temperature
1 teaspoon cream of tartar
½ teaspoon almond extract
½ teaspoon vanilla extract
Pinch of salt
For the filling:
1 cup variety fresh berries
1 cup whipped topping
¼ cup raspberry preserves, slightly warmed
8 ounces white chocolate chips
½ cup heavy cream, hot but not boiling
Instructions
Make the angel food cake:
Preheat oven to 350 degrees. Sift flour and ½ cup sugar together.
In a large mixing bowl, add egg whites, cream of tartar, both extracts and salt. Using a hand mixer on medium speed, beat whites until they start to form soft peaks. Slowly add in remaining cup of sugar while still mixing. Beat whites until stiff peaks form. Gradually fold in flour/sugar mixture, about ¼ cup at a time. Once flour is fully incorporated, carefully spoon batter into an ungreased angel food cake pan. Use a knife to poke out any air pockets.
Bake on bottom rack for 35 to 40 minutes or until golden brown and dry. Remove from oven and place pan upside down on a wire rack for 1 hour. Once cooled, remove cake from pan.
Make the filling and ganache:
In a medium bowl, mix together berries, whipped topping and raspberry preserves until well combined. In a separate bowl, pour hot heavy cream over white chocolate and whisk until chocolate has completely melted into cream.
Fill the cake:
Using a sharp paring or serrated knife, trace along the inner and outer circle. Use your hands to scoop out inner cake to create a well. Fill cake with berries and cream, followed by the white chocolate ganache. Allow ganache to harden slightly before serving. Cut a piece and enjoy!
Watch the recipe video here: