Brownie Cookie Cake
Brownie? Check. Peanut Butter? Check. Chocolate Chip Cookie Dough? Check. Oreo? Check. Dessert heaven? Check.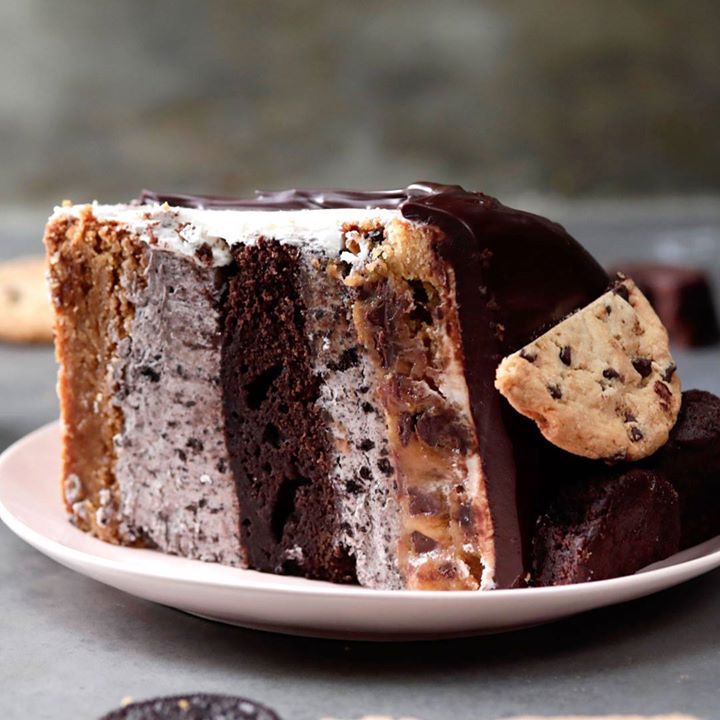 Ingredients
For the cake layers:
1 box peanut butter cookie mix
1 box brownie mix
1 box chocolate chip cookie mix
For the Oreo frosting:
2 containers white frosting
12 Oreo cookies, finely ground
For the ganache:
2 cups dark chocolate
1 cup heavy cream
For decorating:
1 cup white frosting
12 Oreos, for decoration
4 chocolate chip cookies, for decoration
10 brownie bites, for decoration
Instructions
Make the cake layers: Preheat oven to 350 degrees.
Line three 9-inch cake pans with baking spray and parchment. Prepare peanut butter cookies, brownies and chocolate chip cookies according to box instructions. Pour each into a cake pan and bake according to box instructions. Set aside to cool.
Make the Oreo frosting: In a large bowl, mix frosting and Oreo crumbles until combined. Set aside.
Assemble the cake: Place peanut butter cookie layer on a cake stand. Spread 1 cup Oreo frosting evenly across the top and then cover with the brownie layer. Spread another layer of Oreo frosting evenly across the top and cover with the chocolate chip layer.
Cover the entire cake with a thin layer of white frosting. Place in refrigerator for up to one hour to set.
Prepare the ganache: Heat heavy cream and pour over dark chocolate. Stir until chocolate is melted.
Pour ganache over the top of the cake to drip down the sides. Top with brownie bites, Oreos and chocolate chip cookies. Cake will keep up to 5 days covered.
Watch the recipe video here:
This Brownie Cookie Cake is here for a good time, not a long time. Full Recipe: taste.md/2zLmy0V

Posted by Tastemade on Saturday, November 18, 2017