Avocado Cheesecake
Perfect for the avocado obsessed.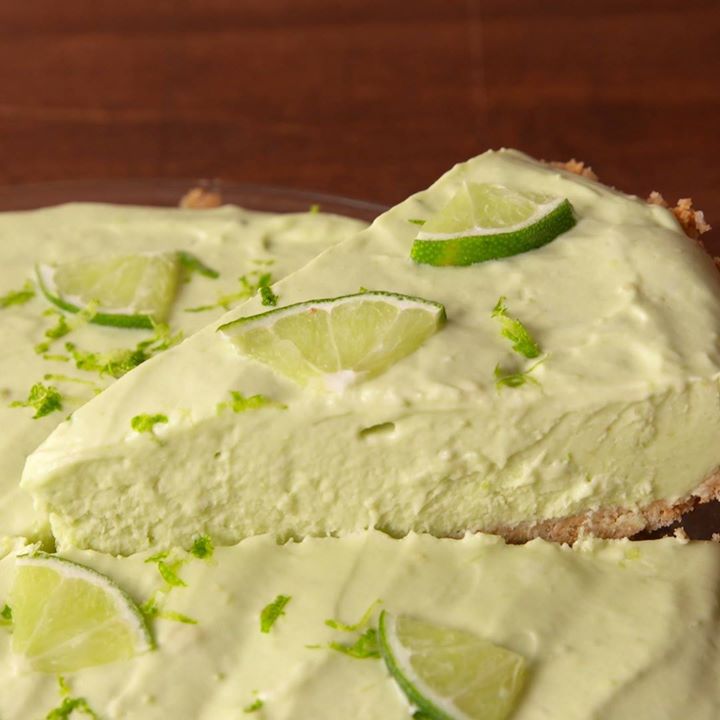 Ingredients
FOR THE CRUST
10 graham crackers
⅓ c. granulated sugar
6 tbsp. butter, melted
kosher salt
FOR THE FILLING
2 8-oz blocks cream cheese, softened
2 ripe avocados, peeled and pitted
1 c. sugar
Pinch salt
¾ c. heavy cream
½ c. fresh lime juice
Zest of 1 lime
small lime wedges (for garnish)
Instructions
Preheat oven to 350° and spray a pie dish with nonstick cooking spray.
Make crust: In a food processor, pulse graham crackers until fine crumbs form. Transfer to a medium bowl then add melted butter, sugar, and a pinch of salt and mix until combined.
Press graham cracker mixture firmly into prepared dish. Bake until the crust looks slightly toasted, 8 to 10 minutes. Let cool to room temperature.
Make filling: In a large bowl using a hand mixer or a stand mixer with the paddle attachment, beat cream cheese, sugar and a pinch of salt until smooth and fluffy, 3 minutes. Add avocados and beat until smooth.
Add heavy cream, lime juice, and most of lime zest (save some for garnish!). Beat until stiff peaks form, 2 to 3 minutes more.
Transfer filling to cooled pie crust. Garnish with more lime zest and small lime wedges. Freeze until solid, 4 to 5 hours. Serve immediately.
Watch the recipe video here: