Neopolitan Zebra Cheesecake
This jazzy Neopolitan Zebra Cheesecake will clearly earn you some stripes.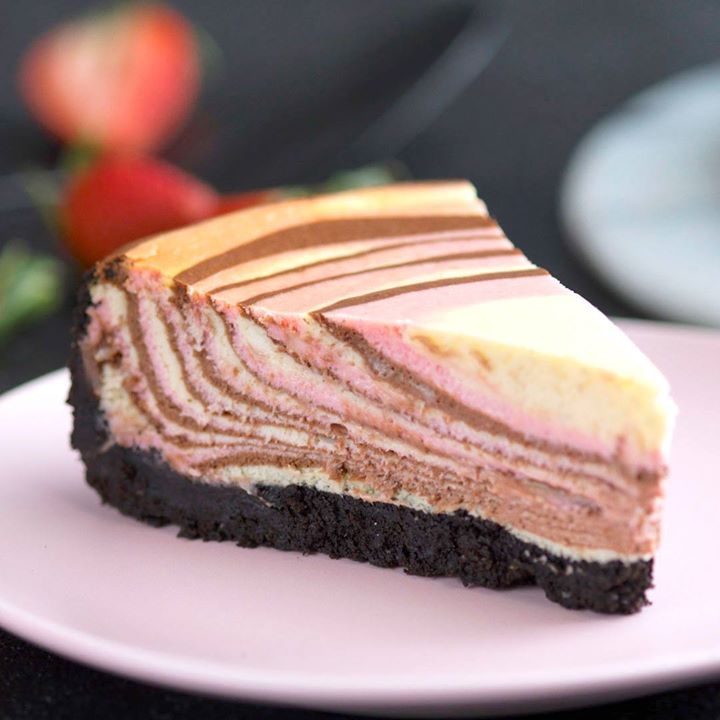 Ingredients
For the crust:
60 chocolate wafers
4 tablespoons butter, melted
1 teaspoon salt
For the cheesecake:
3 cups cream cheese, softened at room temperature
1 cup sugar
3 large eggs
2 teaspoons vanilla
1 teaspoon lemon juice
1 vanilla bean, scraped
3 drops pink food coloring
2 tablespoons strawberry puree
⅛ cup cocoa powder
Instructions
Make the crust:
In the bowl of a food processor, pulse chocolate wafers until they resemble course sand. Add butter and salt and pulse to combine. Press into a 9-inch springform pan and set in the freezer while the cheesecake is made.
Make the cheesecake:
Preheat the oven to 325 degrees. In a large bowl, beat cream cheese until fluffy. Add sugar. Add in eggs one at a time until combined. Add vanilla and lemon juice.
Divide batter into 3 bowls. For the vanilla layer, add vanilla bean and mix until incorporated. For the strawberry layer, add 3 drops of pink food coloring and strawberry puree and mix until incorporated. For the chocolate layer, add cocoa powder and mix until incorporated. Each batter should be super smooth and pourable at this point.
Remove prepared crust from the freezer. Place 2 tablespoons of the vanilla cheesecake in the middle of the pan. Place 2 tablespoons of the chocolate batter in the center of the vanilla batter. Place 2 tablespoons of strawberry batter in the center of the chocolate batter. Repeat this process until all batter is used.
Bake cheesecake for 60 to 65 minutes until the cheesecake is set. Remove from oven and cool for 30 minutes. Continue to cool in the fridge up to 2 hours. Cake will keep up to 5 days refrigerated.
Watch the recipe video here:
3 classic flavors, one gorgeous cheesecake – we're hypnotized.Full Recipe: taste.md/2IpVnuy

Posted by Tastemade on Friday, March 16, 2018