Pineapple Upside Down Cupcakes
Love to make these little guys for family gatherings or just as treats for home to pack into lunches. Easy recipe to make.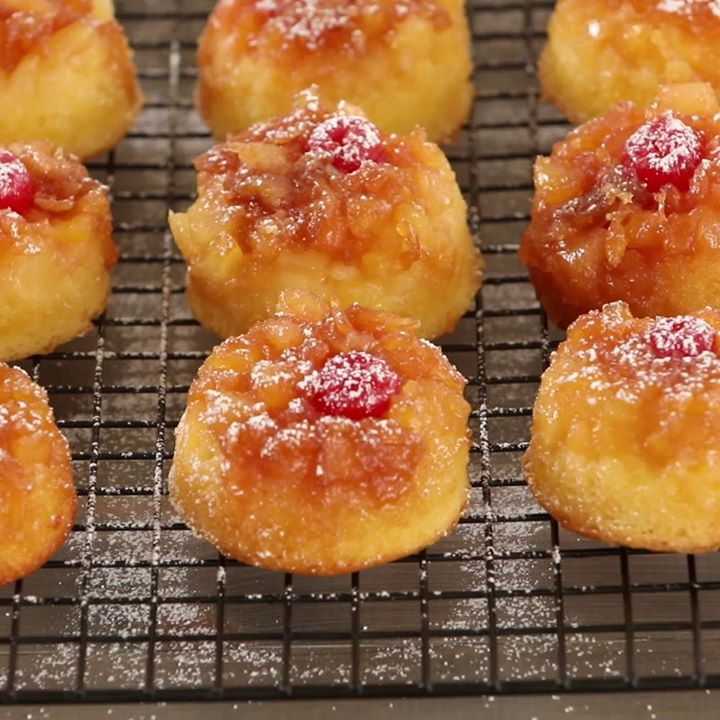 Prep time:
Cook time:
Total time:
Ingredients
cooking spray
½ cup butter, melted
1½ cups brown sugar
24 maraschino cherries
1 (20 ounce) can crushed pineapple
1 (18.25 ounce) package pineapple cake mix (such as Duncan Hines® Pineapple Supreme)
3 eggs
1⅓ cups pineapple juice
⅓ cup vegetable oil
1 tablespoon confectioners' sugar for dusting, or as needed
Instructions
Move an oven rack into the middle of the oven. Preheat oven to 350 degrees F (175 degrees C).
Spray 24 muffin cups with cooking spray.
Line a work surface with waxed paper.
Spoon 1 teaspoon melted butter into the bottom of each sprayed muffin cup.
Spoon 1 tablespoon brown sugar in each muffin cup.
Press a maraschino cherry into the center of the brown sugar in each muffin cup.
Spoon a heaping tablespoon of crushed pineapple over the cherry and compact it with the back of a spoon into an even layer.
Mix pineapple cake mix, eggs, pineapple juice, and vegetable oil in a large bowl with electric mixer on low speed until moistened, about 30 seconds. Turn mixer speed to medium and mix for 2 minutes.
Pour pineapple cake batter into the muffin cups, filling them to the top; do not overfill.
Bake in the preheated oven until a toothpick inserted into the center of a cupcake comes out clean, about 20 minutes.
Allow cupcakes to cool at least 5 minutes before inverting muffin cups onto the waxed paper to release. Serve with pineapple and cherry sides up. Sprinkle cupcakes lightly with confectioners' sugar.
Watch the recipe video here: