Breakfast Stuffed Scallion Pancakes
Love scallion pancakes? Just wait until you try them stuffed with BREAKFAST!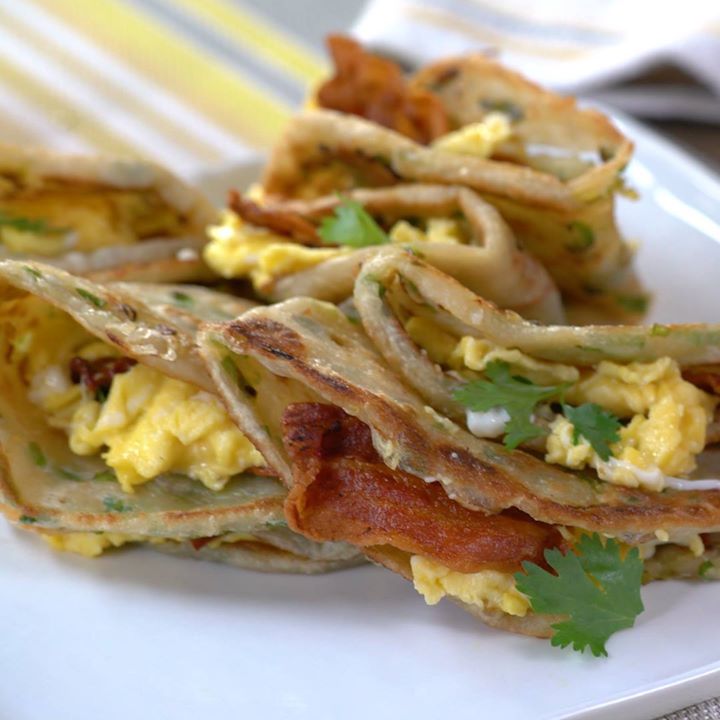 Prep time:
Cook time:
Total time:
Ingredients
1½ cups all-purpose flour, plus more for dusting (see Cook's Note)
Kosher salt and freshly ground black pepper
½ cup boiling water
¼ cup toasted sesame oil
5 scallions, thinly sliced
8 slices bacon
Vegetable oil, for frying
2 tablespoons whole milk
8 large eggs
1 cup shredded sharp Cheddar
¼ cup fresh cilantro leaves
Instructions
Whisk together the flour and 1 teaspoon salt in a large bowl. Add the boiling water and stir with a rubber spatula until blended. If the dough is dry, add up to 2 more tablespoons water (it does not have to be boiling). When the dough is cool enough to handle, knead on a lightly floured surface until elastic yet firm, about 5 minutes. Cover with a damp cloth and set aside for 30 minutes.
Meanwhile, stir together the sesame oil and scallions in a small bowl and set aside.
Divide the dough into 4 pieces and keep covered. One at a time, roll each piece into a 7-inch circle about 1/16 inch thick. Spread one-quarter of the scallion mixture evenly over 1 dough piece. Roll the dough up tightly like a jelly roll. Coil the dough into a circle, cover and set aside. Repeat with the remaining dough pieces and scallion mixture.
Flatten each coil with your hand on a floured surface, then roll with a floured rolling pin into a thin 8-inch circle. Carefully transfer the pancakes to a large baking sheet lined with parchment. If you need to stack the pancakes, put additional parchment paper between the pancakes so that they do not stick together. Cover and refrigerate for 1 hour.
Heat a large nonstick skillet over medium heat and add the bacon. Cook, flipping halfway through, until the bacon is crispy, 12 to 15 minutes. Transfer to a paper towel-lined plate. Reserve the bacon fat in the skillet.
Heat a medium skillet over medium-high heat. Pour a thin layer of vegetable oil into the skillet. Add 1 dough round and cook until golden brown and crispy in spots, 1 to 2 minutes per side. Transfer the pancake to a paper towel-lined baking sheet. Repeat with the remaining pancakes, adding more oil as needed.
Return the skillet with the bacon drippings to low heat. Whisk together the milk and eggs in a medium bowl with a large pinch of salt and pepper. Pour the egg mixture into the skillet and cook, stirring the eggs and scraping the sides and bottom of the skillet as needed, until small curds form and the eggs are just set, 6 to 8 minutes. Turn off the heat and gently stir in the Cheddar.
Divide the cheesy eggs among the 4 pancakes, gently spreading the eggs over one half of each pancake. Lay the bacon over the eggs and sprinkle with the cilantro. Fold each pancake in half, then fold in half once more like a crepe.
Watch the recipe video here: