Pizza Hasselback Chicken
Don't think we don't read the comments under our videos. It has come to our attention that a small minority of people have noticed our preoccupation with hasselbacking stuff - this one is for you guys. This originally Swedish technique has taken the internet by storm - everything from aubergines to olives have felt the punishing edge of a sharp chefs knife. This dish combines a few classics, pizza and chicken, to devastating (if hugely inauthentic) effect.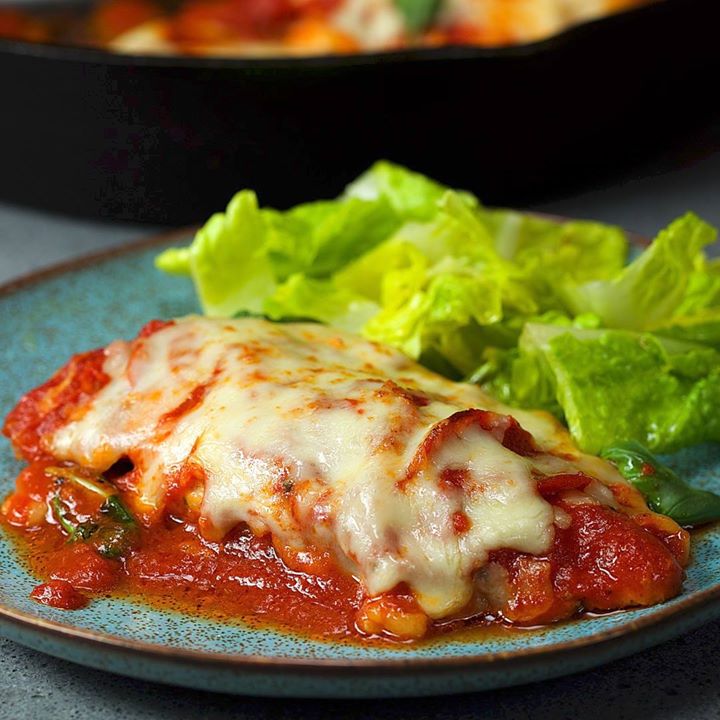 Ingredients
4 chicken breasts
1 tbsp oregano
1 tsp salt
1 tsp pepper
¼ cup olive oil
1 tsp garlic powder
1 pack small pepperoni, sliced in half
1½ cups pizza sauce
Sliced mozzarella
Fresh basil leaves
Instructions
Preheat the oven to 180°C/360°F.
Using a very sharp knife cut even parallel lines ⅘ the way down the length of each chicken breast, around ½ cm apart.
Place the chicken in a bowl and sprinkle with oregano, pepper, salt and garlic powder.
Arrange the chicken on an oiled skillet or baking tray and place a slice of pepperoni between each slit. Pour over the pizza sauce and top with mozzarella, then bake for around half an hour or until the chicken is cooked through and the cheese is bubbling.
Serve immediately with a salad and fresh crusty bread.
Watch the recipe video here:
Pizza Hasselback Chicken

Posted by Twisted on Monday, March 26, 2018