Skillet Lasagna
Creamy, extra-cheesy skillet lasagna gets ?? from even the pickiest little eaters.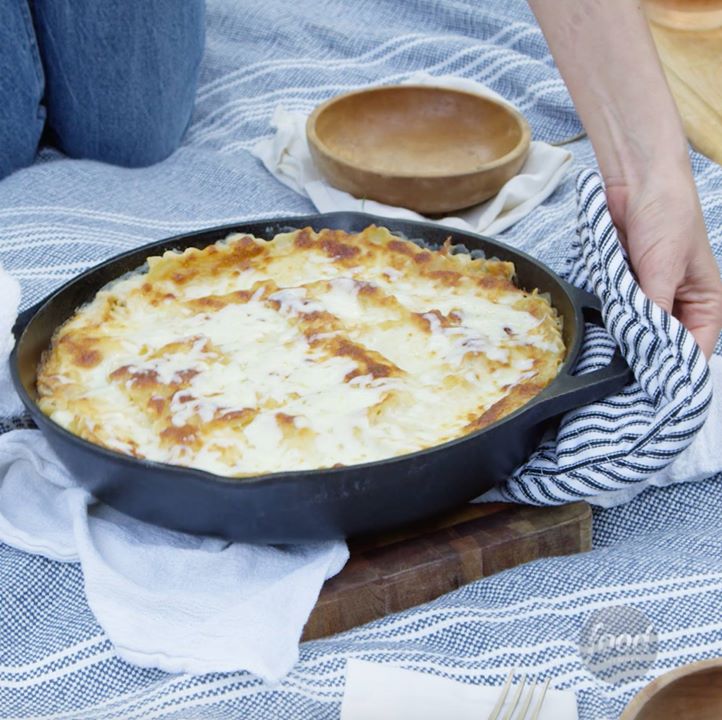 Ingredients
Kosher salt and freshly ground pepper
One 16-ounce box lasagna noodles, broken into pieces
3 tablespoons unsalted butter
3 tablespoons all-purpose flour
2 teaspoons fresh thyme leaves
2½ cups milk (2 percent or whole)
2 teaspoons fresh lemon juice
Freshly ground pepper
1 rotisserie chicken (about 2 pounds), shredded
One 15-ounce tub whole milk ricotta cheese
12 ounces shredded mozzarella
Instructions
Preheat the oven to 400 degrees F.
In a large pot of salted water, boil the broken lasagna noodles according to package directions until al dente. Drain and reserve.
In a medium pot, melt the butter. Once the foaming subsides, add the flour and whisk for about a minute until a roux forms. Add the thyme leaves and whisk another few seconds. Gradually add the milk and keep whisking until a creamy sauce forms, 5 to 8 minutes. Whisk in the lemon juice and season with 1 teaspoon each salt and pepper.
Pour ½ cup of the sauce in the bottom of a 12-inch cast-iron skillet. Arrange one-third of the noodles on top, then layer with about 1 cup of the chicken, dollop with half the ricotta, sprinkle with ⅓ of the mozzarella and drizzle another 1 cup of the sauce over the cheese. Repeat with another layer of noodles, chicken, ricotta, mozzarella and sauce. Add a final layer of noodles, mozzarella and sauce. Bake until the cheese is browned and bubbly, about 30 minutes.
Watch the recipe video here: