Crispy Lasagna Onion Bombs
CRISPY LASAGNA ONION BOMBS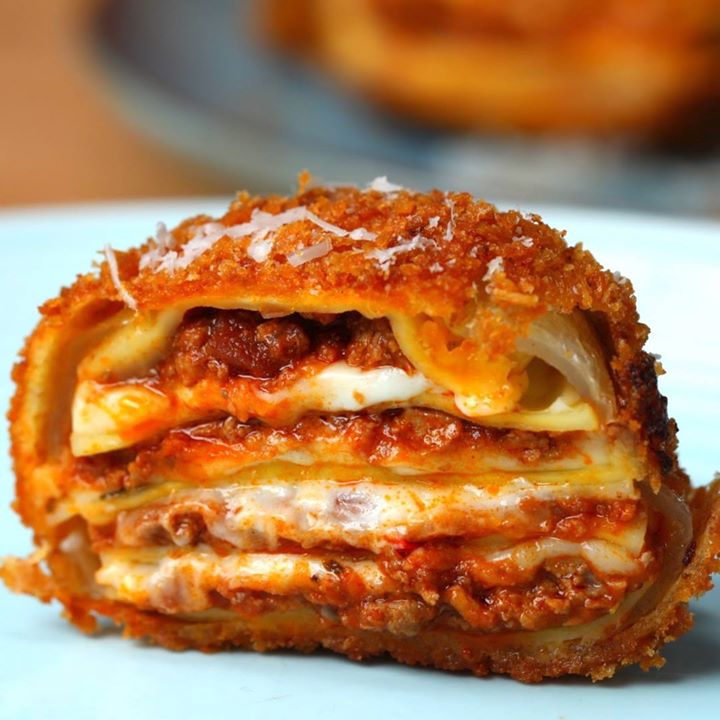 Ingredients
3 small white onions
1 cup beef ragu
½ cup bechamel sauce
fresh lasagna sheets, cooked
4 slices mozzarella
oil, for frying
1 cup plain flour
2 eggs, beaten
1 cup panko breadcrumbs
parmesan, for serving
Instructions
Top and tail then peel your onions. Cut in half, leaving two sets of rings. Separate out the rings then partner each ring with its opposing number (you want the two largest rings only)
Using a small cookie cutter (about ⅕" in diameter), cut out as many rings of cheese and lasagna sheet as you can, then set aside.
Layer your onions - in each half, put in a circle of pasta. Top with 1 tsp of ragu, then a slice of cheese, ½ tsp bechamel, then another piece of pasta. Repeat this process in both halves, but refrain from putting a final slice of pasta on ONE of the halves. Put one half on top of the other to form a ball. Transfer to a baking tray and pop in the freezer for ½ hour.
Dip each ball into the flour, shake off the excess, then go in the egg then the breadcrumbs. Repeat with all the bombs.
Heat your oil to frying temperature then go in with half of your balls. Fry until beautiful and golden. Drain on kitchen towel and leave to rest for a few minutes.
Serve with lashings of parmesan.
Enjoy!
Watch the recipe video here:
Crispy Lasagna Onion Bombs

Posted by Twisted on Thursday, April 19, 2018