Cheesy Penne Lasagna
No bother fussing to make a béchamel or cooking lasagna noodles! Layered bolognese with creamy coated penne bakes up beautifully for an easy spin on a lasagna!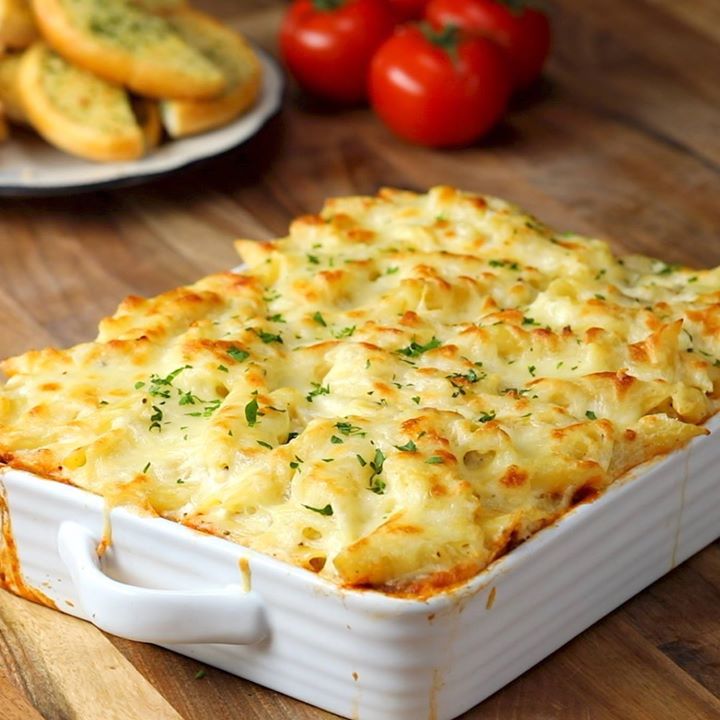 Ingredients
500g beef mince
1 onion, diced
1 tbsp oil
3 cloves garlic, minced
1 tsp salt
½ tsp pepper
1 tsp oregano
2 tbsp tomato paste
⅓ cup red wine
4 cups passata
500g cooked penne
1½ cups ricotta cheese
1 cup grated mozzarella, split
½ cup grated parmesan
1 tsp salt
½ tsp pepper
½ cup heavy cream
Chopped parsley
Instructions
In a large saute pan, heat oil over medium heat. Add onions and cook until softened, add garlic and cook until fragrant. Add mince, breaking apart with a spoon and brown.
Stir in tomato paste until coated. Cook for 2 minutes. Add red wine scraping the bottom of the pan to release the bits. Let reduce by half.
Add the passata, salt, pepper and oregano. Bring to a boil then reduce to a simmer and cover. Cook until thickened.
In a large bowl mix penne, ricotta cheese, half the mozzarella, parmesan, salt, pepper and cream.
Layer bolognese into a dish, topped with pasta, more bolognese and finish with pasta later. Top with remaining mozzarella cheese.
Bake covered in a 180ºF oven for 30 minutes. Grill for 5 minutes until golden brown.
Enjoy!
Watch the recipe video here:
Cheesy Penne Lasagna

Posted by Twisted on Thursday, March 1, 2018