Garlic Knot Crust Lasagna
Tear and share a dollop of doughy joy this evening. Twisting two of your comfort food favourites together, this garlic knot crust lasagne is the perfect way to satisfy some carby cravings.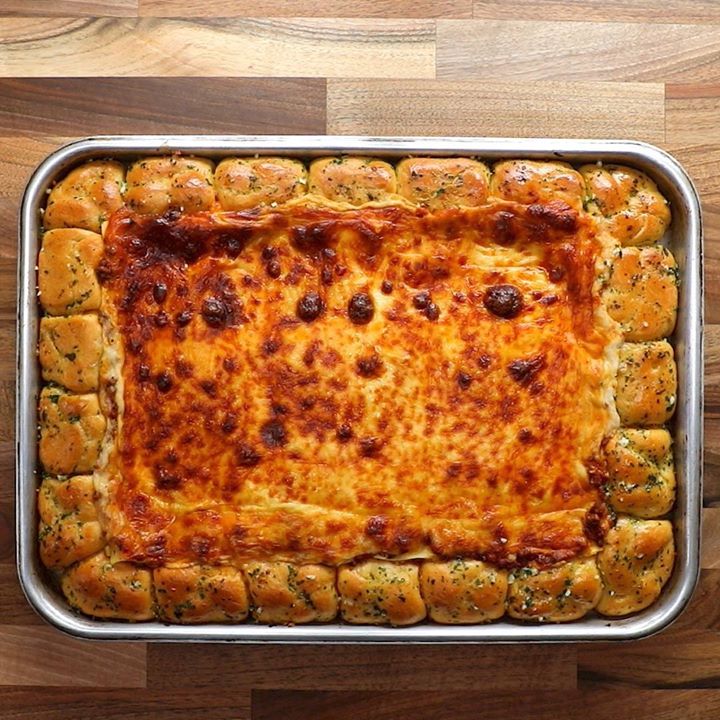 Ingredients
4 cups beef ragu
4 cups bechamel
8 lasagna sheets
16 slices mozzarella
500g pizza dough
1 cup garlic butter
Instructions
Separate dough into 30g balls. Roll each into logs and tie into a knot looping around your fingers and pulling one end through tucking the ends.
Arrange knots around the edge of a large deep sheet pan. Layer the middle with two scoops of ragu and béchamel sauce. Top with two lasagna noodles. Layer with ragu followed by béchamel, cheese and then more lasagna noodles. Continue with remaining fillings and noodles and last layer should be remaining béchamel and ragu and topped with cheese.
Brush knots liberally with garlic butter. Cover with parchment and foil an bake at 180ºC (350ºF) for 20 minutes. Remove the cover and bake for an additional 20 minutes.
If needed cover the garlic knots with foil and broil to brown cheese for 5 minutes.
Enjoy!
Watch the recipe video here:
Garlic Knot Crust Lasagna

Posted by Twisted on Saturday, January 20, 2018