Deep-Fried Lasagna Pieces
A twist on an old classic. This is kind of messy but soooo good. Looks like an appetizer but eats like a meal. The whole family loves it and the stuffed noodles can be frozen and used at a later point.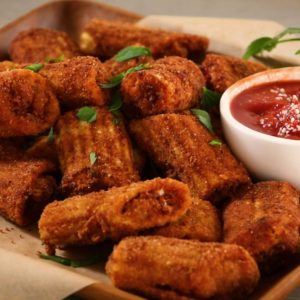 Ingredients
1 pound ground beef
1 pound ground Italian sausage
1 (8 ounce) package manicotti shells
1 (24 ounce) carton cottage cheese, drained
2 (16 ounce) jars pizza sauce, divided
1 (8 ounce) package shredded mozzarella cheesevegetable oil for frying
½ cup all-purpose flour
3 eggs
2 cups bread crumbs
Instructions
Heat a large skillet over medium heat. Add beef and Italian sausage; cook and stir until browned, about 8 minutes. Drain excess grease. Let cool slightly.
Bring a large pot of lightly salted water to a boil. Cook manicotti shells in the boiling water, stirring occasionally until tender yet firm to the bite, about 7 minutes. Drain.
Mix cooled beef and sausage, cottage cheese, 1 jar pizza sauce, and mozzarella cheese together in a large bowl. Stuff shells generously with mixture.
Arrange stuffed shells on a baking sheet and freeze until firm, 15 to 20 minutes. Cut each shell into 2 or 3 lasagna pieces.
Heat oil in a deep-fryer or large saucepan to 350 degrees F (175 degrees C).
Place flour in a bowl. Beat eggs in another bowl. Pour bread crumbs onto a shallow plate.
Dredge stuffed lasagna pieces in flour. Dip in beaten eggs. Roll in bread crumbs until coated.
Fry 4 breaded lasagna pieces at a time in the hot oil until golden brown, 3 to 5 minutes. Repeat with remaining pieces.
Pour remaining jar of pizza sauce into a bowl for dipping.
Watch the recipe video here: