Hasselback Hunters Chicken
Hunters chicken is one of those classic pub dishes that has stood the test of time. It's a marvellous thing, a simple combination of the world's most ubiquitous fowl, the people's favourite cheese and the life affirming properties of BBQ sauce. Sit down with one of these bad boys, a plate of chips and a side salad if you like that sort of thing.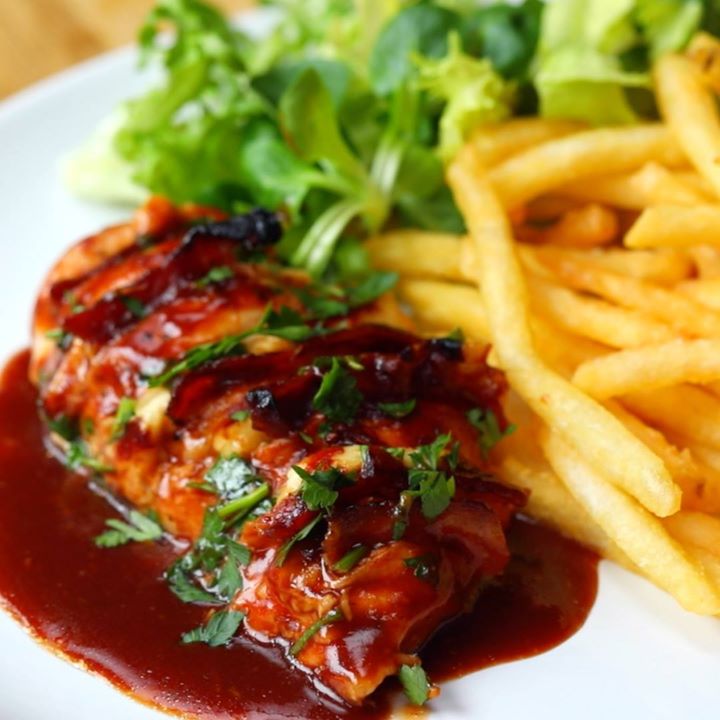 Ingredients
5 chicken breasts
1 cup BBQ sauce
¾ cup passata
1 tbsp thyme leaves
Pinch of salt
6 rashers cooked bacon
1 small block cheddar, cut into slices
Instructions
Preheat the oven to 180°C/360°F.
Cut slits in the chicken all the way down and lay in a skillet.
Whisk together passata, BBQ sauce, thyme and a little salt then brush all over the chicken breasts. Place a small piece of bacon and cheddar between each slit. Pour over remaining sauce if you wish.
Sprinkle with more salt and bake for 30 - 40 minutes until the chicken is cooked through and the cheese has melted and gone all lovely.
Serve with chips and a salad.
Watch the recipe video here:
Hasselback Hunters Chicken

Posted by Twisted on Sunday, January 28, 2018