Lasagna Soup
This laughs in the face of basic noodle soup.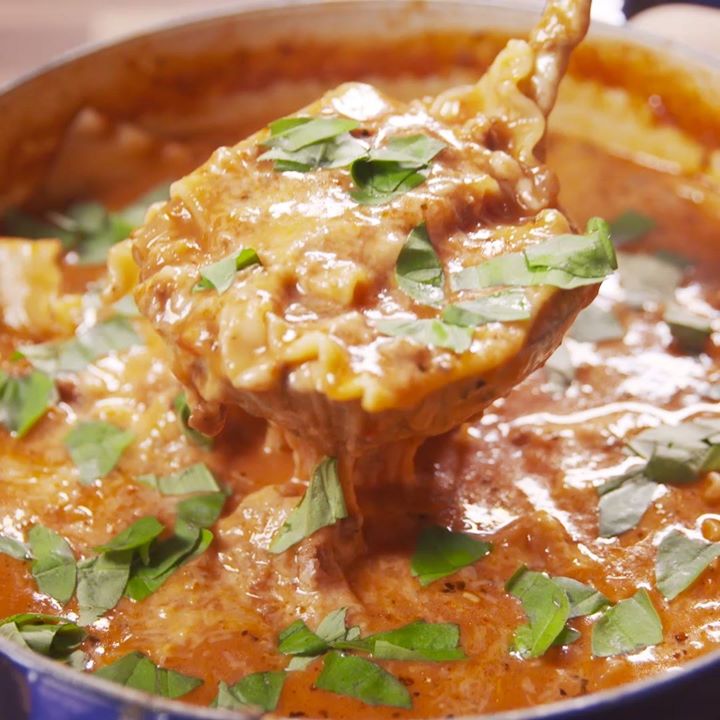 Ingredients
1 tbsp. extra-virgin olive oil
1 yellow onion, chopped
kosher salt
1 lb. ground beef
4 cloves garlic, minced
28 oz. can crushed tomatoes
1 tbsp. balsamic vinegar
1 tbsp. dried oregano
4 c. low-sodium chicken broth
8 oz. lasagna noodles, broken into 2" pieces
2 c. shredded mozzarella
Grated Parmesan, for garnish
Torn fresh basil, for garnish
Instructions
In a large skillet over medium heat, heat oil. Add onions and season with salt. Cook until tender and golden, 5 minutes, then add beef and cook until no longer pink. Drain fat and return to pot.
Add garlic and stir until fragrant, 1 minute, then add crushed tomatoes, balsamic, and dried oregano.
Pour in chicken broth and bring to a simmer.
Add lasagna noodles and cook, stirring occasionally, until al dente, 10 minutes.
Add mozzarella and stir, letting melt into soup.
Garnish with Parm and basil.
Watch the recipe video here:
Lasagna soup is the ultimate soup for pasta lovers.Full recipe: http://dlsh.it/AVVqD7G

Posted by Delish on Monday, January 1, 2018