Zucchini and Bean Burritos
The bean mixture acts as a barrier between the tortilla and the zucchini, so the burritos stay crisp.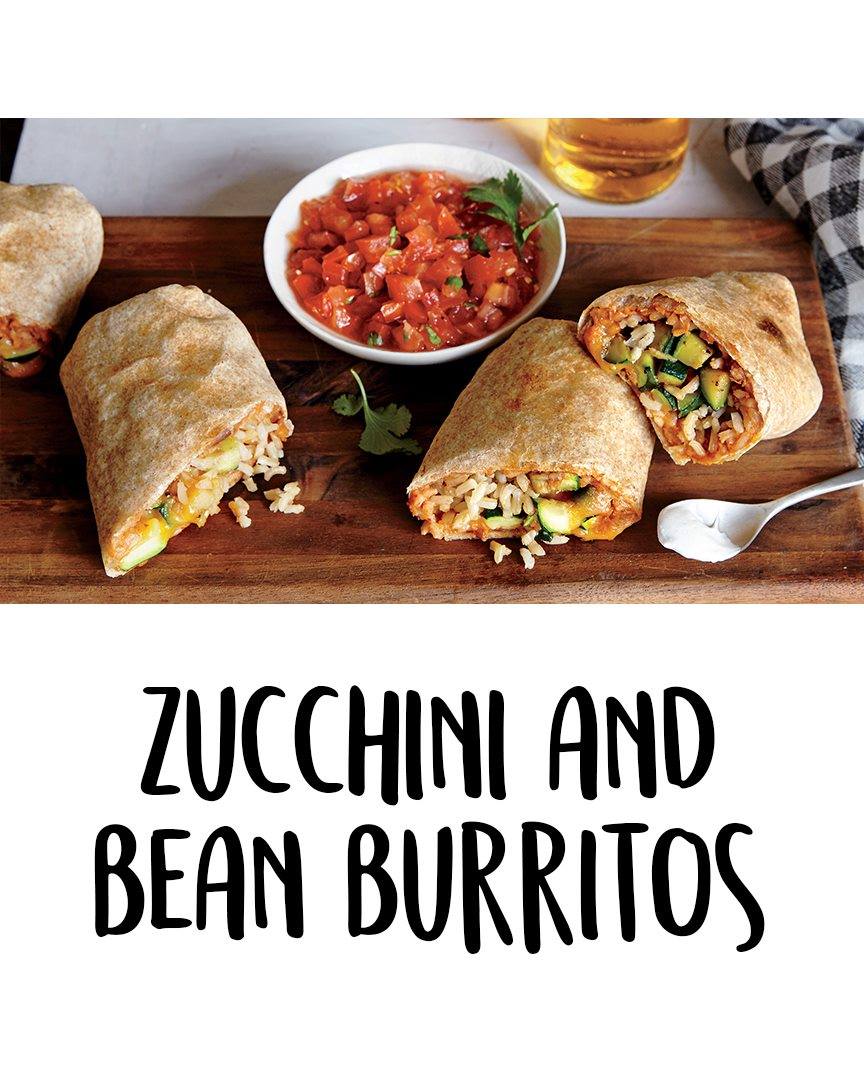 Ingredients
½ cup spicy enchilada sauce (such as Las Palmas)
1 (14.5-ounce) can unsalted pinto beans, rinsed and drained
1 (14.5-ounce) can fat-free refried beans
1 tablespoon olive oil
3 cups diced zucchini
1 tablespoon chopped fresh oregano
½ teaspoon ground cumin
½ teaspoon black pepper
⅛ teaspoon ground red pepper
6 garlic cloves, minced
2 (8.8-ounce) packages precooked brown rice (such as Uncle Ben's)
8 (8-inch) whole-wheat flour tortillas
4 ounces reduced-fat cheddar cheese, shredded (about 1 cup) Cooking spray
½ cup reduced-fat sour cream
½ cup refrigerated fresh pico de gallo Cilantro sprigs (optional)
Instructions
Place a large baking sheet in the oven. Preheat the oven to 450° (leave the pan in the oven as it preheats).
Place first 3 ingredients in a saucepan over medium heat; cook 4 minutes, stirring occasionally.
Heat a large skillet over medium-high heat. Add oil; swirl. Add zucchini; sauté 2 minutes. Add oregano, cumin, black pepper, red pepper, and garlic; cook 2 minutes. Remove from heat.
Prepare rice according to package directions.
Warm tortillas according to package directions. Spread about ⅓ cup bean mixture evenly over each tortilla, leaving a ½-inch border. Top each tortilla with ⅓ cup rice, ⅓ cup zucchini mixture, and 2 tablespoons cheese. Fold in sides of tortilla over filling; roll up. Repeat procedure with remaining 7 tortillas, bean mixture, rice, zucchini mixture, and cheese.
Lightly coat burritos with cooking spray. Arrange burritos, seam sides down, on preheated baking sheet. Bake at 450° for 4 minutes, turning after 2 minutes. Top each serving with 1 tablespoon sour cream, 1 tablespoon pico de gallo, and cilantro sprigs, if desired, or follow freezing instructions.
Watch the recipe video here: