Pizza Lasagna Pockets
Pizza or lasagna? Why not both! These lasagna parcels are simple and fun to make. They hold their shape well and are great portion sizes. Serve with a green salad for a complete meal!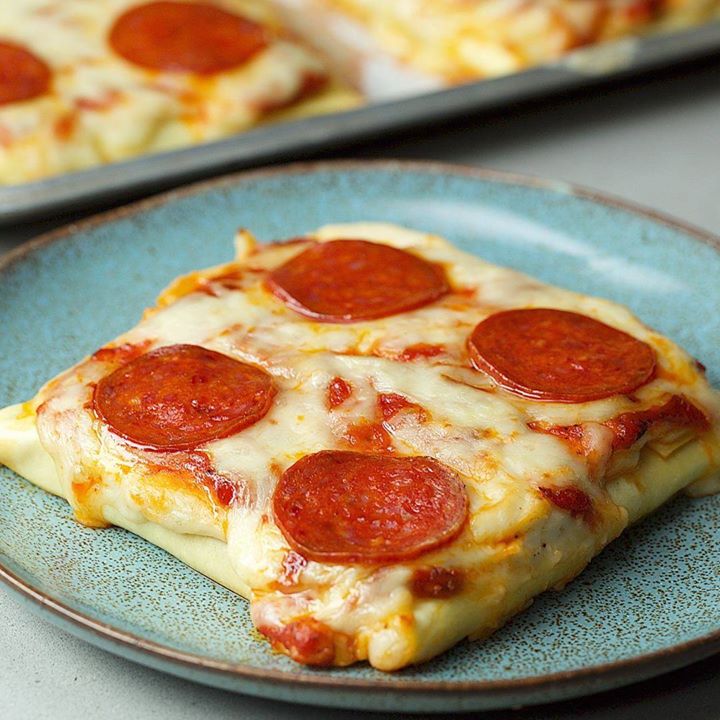 Ingredients
250g can crushed tomatoes
2 tsp olive oil
2 cloves garlic, minced
1 tsp salt
1 tsp pepper
1 tsp oregano
1 tsp sugar
8 par-cooked lasagna sheets
2 cups bechamel
2 cups gated mozzarella
Sliced Pepperoni
Instructions
Pre-heat oven to 180c (350F). Lay one noodle down horizontally. Spread a thin layer of béchamel over top in the center in a square shape. Top with another lasagna noodle vertically covering the square of béchamel. Spread more béchamel to cover a square again and top with 2tbsp pizza sauce. Place approximately 9 pieces of pepperoni down and sprinkle over mozzarella evenly.
Fold over left side first, then bottom, then right, then top piece and tuck in the top left corner under the top corner of the left side. Repeat with remaining noodles and mix. Place on a parchment-lined baking sheet.
Cover each with béchamel, pizza sauce mozzarella and pepperoni as shown in video.Bake in the oven for 20 minutes until bubbling and cooked.
Enjoy!
Watch the recipe video here:
Pizza Lasagna Pockets

Posted by Twisted on Friday, April 6, 2018