Pizza Hasselback Potatoes
Hasselback potatoes are a fun way to cook a potato. They have domino-like slots that are perfect for filling with delicious things like pepperoni, sauce, and cheese. Pizza Hasselback potatoes are delicious and fun. Add your favourite pizza toppings if you'd like!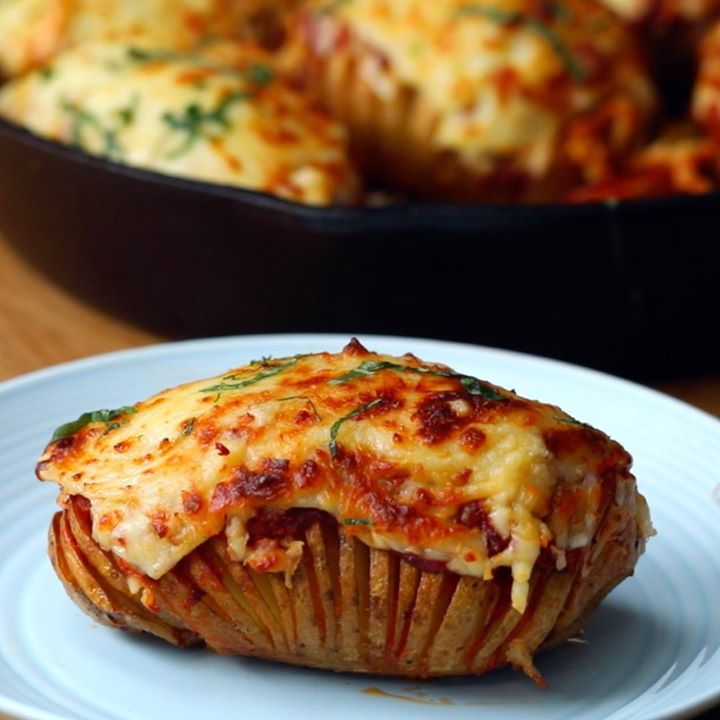 Ingredients
6 medium potatoes
2 tbsp groundnut oil
1 tbsp sea salt
½ tsp pepper
Pepperoni, sliced in half
1 cup pizza sauce
1½ cups shredded mozzarella
Basil
Instructions
Preheat the oven to 180°C/360°F.
Cut parallel lines down the length of the potatoes - you can use two wooden spoons laid next to the potato as a guide to stop you cutting all the way through if you need to.
Lay the potatoes in a greased skillet and brush with oil and sprinkle with salt and pepper. Bake for an hour or until the potatoes are fanned out.
Fill each slot with a slice of pepperoni. Top each potato with pizza sauce and mozzarella.
Bake for 10 minutes and then grill for 5 minutes until the cheese is golden and bubbly.
Serve with a green salad and enjoy!
Watch the recipe video here:
Pizza Hasselback Potatoes

Posted by Twisted on Wednesday, January 3, 2018