Berbere Spice Chicken Wings
Berbere Spice Chicken Wings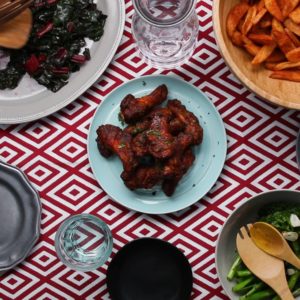 Ingredients
BERBERE SPICE
3 tablespoons paprika
1 tablespoon salt
1 tablespoon cayenne
1 teaspoon ground fenugreek
1 teaspoon ground ginger
1 teaspoon onion powder
½ teaspoon ground cardamom
½ teaspoon ground nutmeg
½ teaspoon garlic powder
¼ teaspoon ground cloves
¼ teaspoon ground cinnamon
¼ teaspoon allspice
12 chicken drumettes
½ cup flour (60 g)
1 tablespoon baking powder
1 tablespoon cornstarch
2 tablespoons unsalted butter
Instructions
In a medium bowl, combine the paprika, salt, cayenne, fenugreek, ginger, onion powder, cardamom, nutmeg, garlic powder, cloves cinnamon, and allspice. Mix well.
Save two tablespoons of spice mix. Set aside.
Add the chicken drumettes to the bowl with the spice mixture and toss to coat evenly. Marinate in the fridge at least 30 minutes, up to overnight.
In a small bowl, combine the flour, baking powder, and cornstarch. Sprinkle the flour mixture over the marinated chicken. Toss them until well-coated.
Preheat the oven to 425˚F (220˚C).
Place the chicken on a wire rack set over a parchment paper-lined baking sheet. Bake them for 30-40 minutes or chicken is slightly browned.
In a small saucepan, melt the butter. Once the butter is melted, add the reserved 2 tablespoons spice mix and stir to combine.
Drizzle the spice butter mixture over the drumettes.
Enjoy!
Watch the recipe video here:
These berebere-spiced chicken wings are a new flavour you won't regret trying!FULL RECIPE: https://tasty.co/recipe/berbere-spice-chicken-wings

Posted by Proper Tasty on Friday, June 21, 2019