Naan Bread Margherita Pizza with Prosciutto
This is one of my favorite friday night dishes. This pizza is quick, simple and delicious. Instead of making the pizza dough from scratch I decided to use naan bread for the pizza base. Using naan bread not only saves time but it is great for portion control. The only difference between this recipe and most pizza recipes is that It doesn't include a tomato sauce on the base. I don't like the sogginess that comes from the sauce, but feel free to try it with the sauce as it will still yield good results.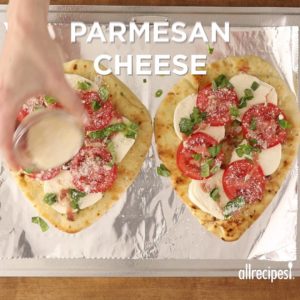 Ingredients
2 naan breads
2 teaspoons olive oil, or as needed
1 green onion, sliced
1 clove garlic, finely chopped
8 slices mozzarella cheese
1 large roma tomato, thinly slicedsalt and ground black pepper to taste
1 slice prosciutto, sliced6 leaves fresh basil, roughly chopped
2 tablespoons grated Parmesan cheese
Instructions
Preheat oven to 350 degrees F (175 degrees C). Line a baking sheet with aluminum foil.
Place naan breads on the prepared baking sheet; brush each naan with olive oil. Spread green onion and garlic over each naan. Arrange 4 slices mozzarella cheese onto each naan; top with tomato slices. Season tomatoes with salt and pepper. Top tomato layers with prosciutto, basil, and Parmesan cheese.
Bake in the preheated oven until pizza is crispy on the edges and cheese is melted, about 8 minutes. Turn on oven's broiler and broil until cheese is lightly browned and bubbling, about 2 minutes.
Watch the recipe video here: