Brown Butter Sage Pierogi
Brown Butter Sage Pierogi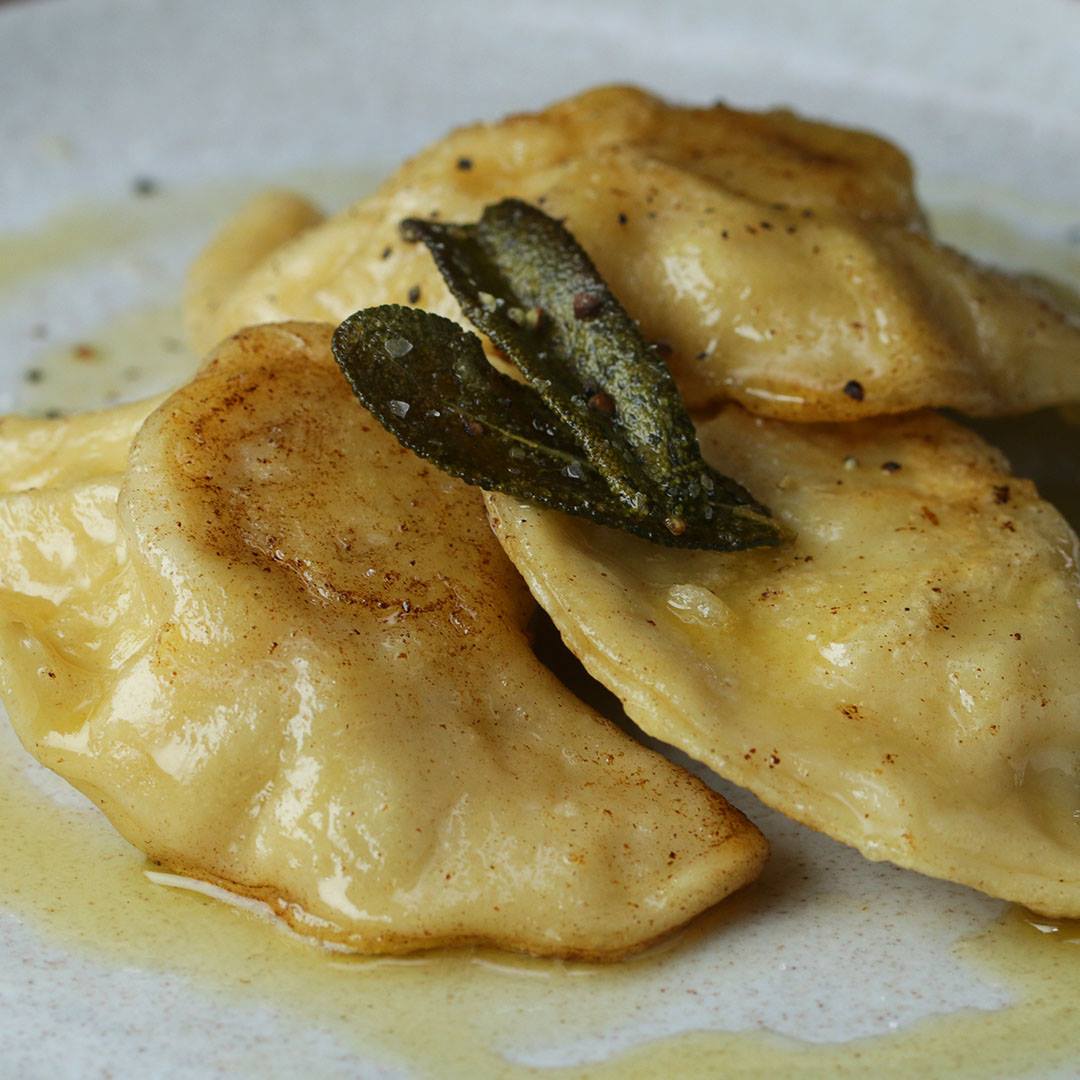 Ingredients
1 lb russet potato, peeled and halved (455 g)
1 cup onion, chopped (150 g)
6 tablespoons unsalted butter, divided
½ cup shredded cheddar cheese (50 g)
¼ cup sour cream (60 g)
1 teaspoon salt, plus more to taste
1 teaspoon pepper, plus more for serving
1 ½ cups all-purpose flour, plus more for dusting (190 g)
⅓ cup warm water (80 mL)
1 tablespoon olive oil
1 large egg, lightly beaten
10 fresh sage leaves
Instructions
Place the potatoes in a medium pot filled with cold water. Cover and turn the heat to medium-high. Bring to a boil and cook potatoes for 20-25 minutes, until fork-tender.
As the potatoes are cooking, melt 2 tablespoons of butter in a medium saucepan over medium heat. Add the onions and sauté for 8-10 minutes, until golden brown. Remove the pan from the heat.
In a medium bowl, combine the flour, warm water, olive oil, egg, and a pinch of salt. Use a fork to mix together, then once the dough begins to come together.
Knead with your hands for 2-3 minutes, until smooth. Shape the dough into a disc. Cover with plastic wrap and refrigerate for at least 30 minutes.
Once the potatoes are finished cooking, drain and transfer to a medium bowl. Add the cheddar cheese to the hot potatoes so the cheese melts a bit. Add the sautéed onions, sour cream, salt, and pepper.
Mash the potato mixture with a fork, then mix with a spatula until smooth. Cover with plastic wrap and chill in the refrigerator for 15 minutes.
Remove the dough from the refrigerator and place on a floured surface. Lightly flour the top and roll out the dough to about ⅛-inch (3-mm) thick.
Use a pint glass to cut out circles. Gather the scraps and re-roll, then let rest for 5 minutes. Cut out more circles of dough. Keep the dough circles covered with plastic wrap to prevent them from drying out while you work.
To assemble the pierogi, scoop a rounded tablespoon of the potato filling into the center of a dough circle. Lightly stretch the dough around the filling and pinch closed with your fingers. Repeat with remaining dough and filling. If the dough circles gets too warm to handle, chill in the refrigerator for 10 minutes.
Bring a large pot of water to boil. Boil the pierogis, in batches if necessary, for 3 minutes, until they float to the surface. Be careful not to overcook. Scoop the pierogis out with a slotted spoon and place them in a oiled bowl so they don't stick together.
Just before serving, melt the remaining 4 tablespoons of butter in a large nonstick saucepan over medium-high heat. Once the butter is melted, add the sage leaves. Cook until the butter begins to brown and smell nutty, 2-3 minutes. Reduce the heat to medium and add the pierogis, working in batches if the pan is too crowded. Lightly brown the pierogis, about 2 minutes per side. Remove the pan from the heat.
To serve, spoon the brown butter over the pierogies and sprinkle with salt and freshly cracked black pepper to taste.
Enjoy!
Watch the recipe video here:
Don't challenge me in a pierogi eat-off… I. WILL. WIN!Get the recipe here: https://tasty.co/recipe/brown-butter-sage-pierogi

Posted by Tasty on Thursday, October 11, 2018