Zucchini Pizza Casserole
I grow zucchini by the bushel, so this pizza casserole is one of my dinnertime go-to's. My hungry husband and kids gobble it right up.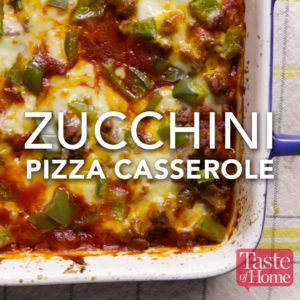 Ingredients
4 cups shredded unpeeled zucchini
½ teaspoon salt
2 large eggs
½ cup grated Parmesan cheese
2 cups shredded part-skim mozzarella cheese, divided
1 cup shredded cheddar cheese, divided
1 pound ground beef
½ cup chopped onion
1 can (15 ounces) Italian tomato sauce
1 medium green or sweet red pepper, chopped
Instructions
Preheat oven to 400°. Place zucchini in colander; sprinkle with salt. Let stand 10 minutes, then squeeze out moisture.
Combine zucchini with eggs, Parmesan and half of mozzarella and cheddar cheeses. Press into a greased 13x9-in. or 3-qt. baking dish. Bake 20 minutes.
Meanwhile, in a large saucepan, cook beef and onion over medium heat, crumbling beef, until meat is no longer pink; drain. Add tomato sauce; spoon over zucchini mixture. Sprinkle with remaining cheeses; add red pepper. Bake until heated through, about 20 minutes longer.
Freeze option:
Cool baked casserole; cover and freeze. To use, partially thaw in refrigerator overnight. Remove from refrigerator 30 minutes before baking. Preheat oven to 350°. Unwrap casserole; reheat on a lower oven rack until heated through and a thermometer inserted in center reads 165°.
Watch the recipe video here: