5-Ingredient Zucchini Noodles With Spicy Peanut Sauce
5-Ingredient Zucchini Noodles With Spicy Peanut Sauce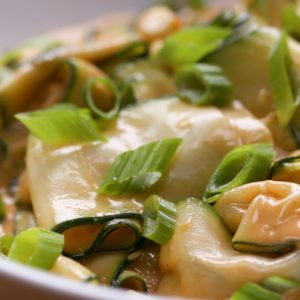 Ingredients
½ cup peanut butter, chunky (120 g)
1 tablespoon siracha, to taste, plus more for serving
½ lime, juiced
¼ cup water (60 mL)
4 medium zucchinis, or 2 large
4 green onions, chopped, light and dark parts divided
kosher salt, to taste
Instructions
In a large bowl, combine the peanut butter, Sriracha, lime juice, and water. Use a fork or whisk to mix until smooth.
Using a vegetable peeler, shave the zucchini into wide ribbons. You should have about 8 cups (990 grams) of zucchini ribbons total.
Add the zucchini ribbons and light parts of the green onions to the sauce and toss until coated. The sauce may seem thick at first, but the zucchini will release some water and thin the sauce a bit. Season with salt to taste.
Divide the noodles between serving bowls. Garnish with the dark scallion parts.
Enjoy!
Watch the recipe video here:
You only need 5 ingredients to make this savory peanut zucchini noodle dish!Recipe: https://tasty.co/recipe/5-ingredient-zucchini-noodles-with-spicy-peanut-sauce

Posted by BuzzFeed Food on Monday, August 12, 2019