Chocolate Oat Milk
Once you make our version of silky chocolate oat milk, there will be no going back to the store-bought kind with all its added sugar.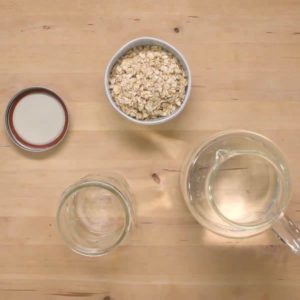 Ingredients
1 cup old-fashioned oats, rinsed
¼ cup plus 2 tablespoons honey
¼ cup unsweetened cocoa powder
¼ teaspoon vanilla extract
Kosher salt
Instructions
Combine the oats with enough water to cover in a medium bowl. Refrigerate the oats to soften, at least 6 hours and up to overnight.
Drain and rinse the oats very well to remove any residue. Combine the oats with 3 cups fresh water in a blender. Blend on high until the oats are completely pulverized, 2 to 3 minutes. Strain the oat milk through a fine-mesh strainer or cheesecloth into a container. (Save the oat pulp for smoothies or to use in baked goods.)
Warm 1 cup of the oat milk in a microwave-safe container, about 2 minutes.
Add the honey and cocoa powder to the hot milk and stir until all the lumps are gone.
Add the vanilla, remaining cold oat milk and ¼ teaspoon salt; stir to combine. Store the chocolate oat milk in an airtight container in the refrigerator for up to 5 days.
Watch the recipe video here: