Creamy Chicken Piccata
Creamy Chicken Piccata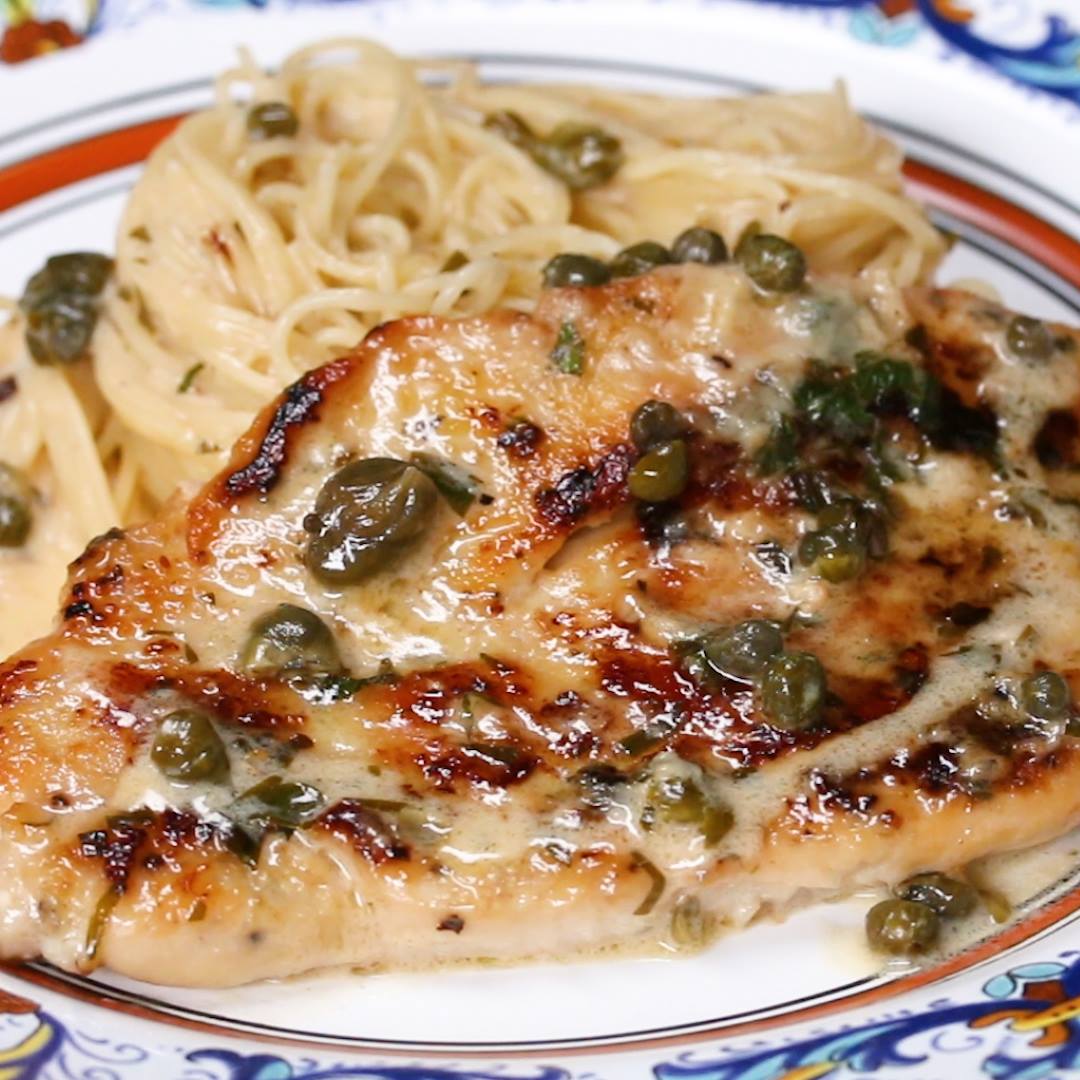 Ingredients
2 boneless, skinless chicken breasts
salt, to taste
pepper, to taste
⅔ cup all-purpose flour (80 g)
4 tablespoons olive oil
⅓ cup dry white wine (80 mL)
2 tablespoons unsalted butter
2 cloves garlic, chopped
2 tablespoons caper
3 tablespoons lemon juice
1 ½ cups chicken stock (360 mL)
⅓ cup heavy cream (80 mL)
2 tablespoons fresh flat-leaf parsley, chopped
angel hair pasta, cooked, for serving
Instructions
Butterfly each chicken breast. Lay a piece of parchment paper on top and pound to about ¼ inch (6 mm) thick. Season generously on both sides with salt and pepper.
Cut each breast in half lengthwise so you have 4 pieces of chicken.
Add the flour to a wide, shallow dish. Dredge each piece of chicken in flour, shaking off the excess.
Heat the olive oil in a large skillet over medium heat. Fry the chicken until golden brown, about 3-4 minutes per side. Remove the chicken from the pan and set aside.
Pour the white wine into the pan and cook until reduced by half, about 1 minute.
Add the butter, garlic, and capers and cook until fragrant, about 2 minutes.
Stir in the lemon juice and chicken stock and cook for 5 minutes, until the sauce has slightly thickened.
Stir in the cream, then return the chicken to the pan.
Sprinkle with the parsley and turn the chicken to coat in the sauce. Simmer for 2 minutes, until the sauce thickens slightly, then remove from the heat.
Serve the chicken and sauce over angel hair pasta.
Enjoy!
Watch the recipe video here:
This chicken piccata is so creamy and delicious ?Get the recipe: https://tasty.co/recipe/creamy-chicken-piccataWatch…

Posted by Tasty on Saturday, November 17, 2018