Tabitha Brown's Healthy Vegan Pizza Bagels
Tabitha Brown's Healthy Vegan Pizza Bagels recipe.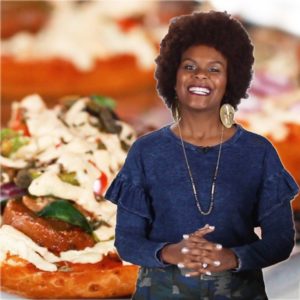 Ingredients
6 onion bagels, halved
⅓ cup olive oil (80 mL)
25 oz marinara sauce (705 g), 1 jar, with basil
2 tablespoons garlic, minced
8 oz shredded vegan mozzarella cheese (225 g), 1 bag
8 oz shredded vegan pepper jack cheese (225 g), 1 bag
12 oz vegan italian sausage (340 g), sliced for pepperoni or ground for sausage
1 ½ cups red onion (225 g), chopped
2 cups button mushroom (150 g), sliced
½ cup bell pepper (50 g), red and green, diced
½ cup black olive (65 g), sliced
2 tablespoons dried oregano
fresh herb, torn, for garnish
Instructions
Preheat the oven to 400˚F (200˚C).
Arrange the bagels cut-side up on a baking sheet. Brush with olive oil.
Spread the marinara sauce over the pizzas, then sprinkle with a bit of garlic. Top with the vegan mozzarella and pepper Jack cheeses.
Add your toppings of choice, such as pepperoni or ground sausage, spinach, red onion, mushrooms, bell peppers, and olives. Sprinkle a bit more cheese on top and finish with a pinch of oregano.
Bake for 15 minutes until the cheese is completely melted.
Enjoy!
Watch the recipe video here:
Make pizza at home with Tabitha Brown's vegan pizza bagel recipe!Recipe: https://tasty.co/recipe/tabitha-browns-healthy-vegan-pizza-bagels

Posted by Tasty on Saturday, August 31, 2019