Reuben Garbage Bread
All the flavors of the iconic deli sandwich rolled up into pizza dough studded with caraway seeds. Brushing the bread with a baking soda wash gives it that deep golden brown soft pretzel look-- a new alternative to brushing with butter or egg wash.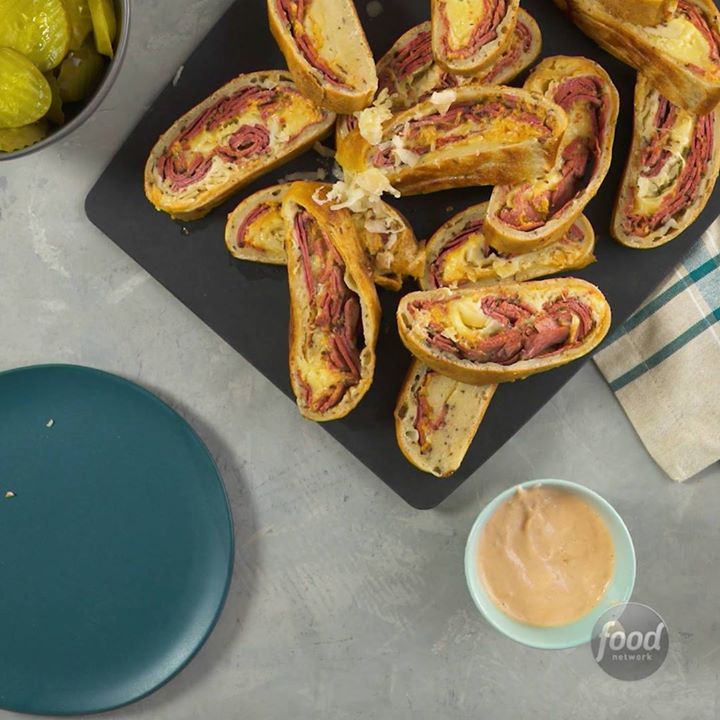 Ingredients
½ cup mayonnaise
¼ cup ketchup
2 tablespoons prepared horseradish, drained
½ teaspoon onion powder
½ teaspoon Worcestershire sauce
Hot sauce, for the sauce
Kosher salt
1 teaspoon baking soda
2 cups sauerkraut, drained well
All-purpose flour, for dusting
2 teaspoons caraway seeds
1½ pounds store-bought pizza dough, at room temperature (see Cook's Note)
1 pound thinly sliced pastrami
8 ounces thinly sliced Swiss cheese, quartered
Instructions
Preheat the oven to 400 degrees F. Line a baking sheet with parchment.
Whisk together the mayonnaise, ketchup, horseradish, onion powder, Worcestershire sauce, hot sauce and a pinch of salt in a small bowl. Season with additional salt if needed. Set aside
Stir the baking soda into ⅓ cup of super-hot tap water until dissolved. Set aside.
Put the sauerkraut into a large kitchen towel and wring it out over the kitchen sink to remove any excess liquid. Set aside.
Sprinkle the dough all over with the caraway seeds then roll into a 20-by-14-inch rectangle on a lightly floured work surface. Some of the caraway seeds will fall away from the dough, but a lot of the seeds should work in as you roll it out. Arrange the pastrami evenly on one half of the dough, starting on the shorter end and leaving a 1-inch border on the sides. Spread half the sauce over the pastrami. Separate the cheese pieces and shingle them over the sauce. Scatter the sauerkraut on top. Working from the short side, tightly roll up the dough into a log, jelly roll-style. Pinch the open ends together to seal, then tuck them underneath the log.
Transfer the log, seam side-down, onto the prepared baking sheet and brush all over with the baking soda wash (you will not use all the wash). Bake, rotating the pan halfway through, until the bread is deep golden brown, 40 to 50 minutes.
Let the bread cool for 10 minutes. Slice into 8 pieces and serve warm with the remaining sauce.
Watch the recipe video here: