Crispy Salami and Cheese Egg Rolls
Look at that cheese pull! ? Giada De Laurentiis transforms wonton wrappers into Crispy Salami and Cheese Eggrolls.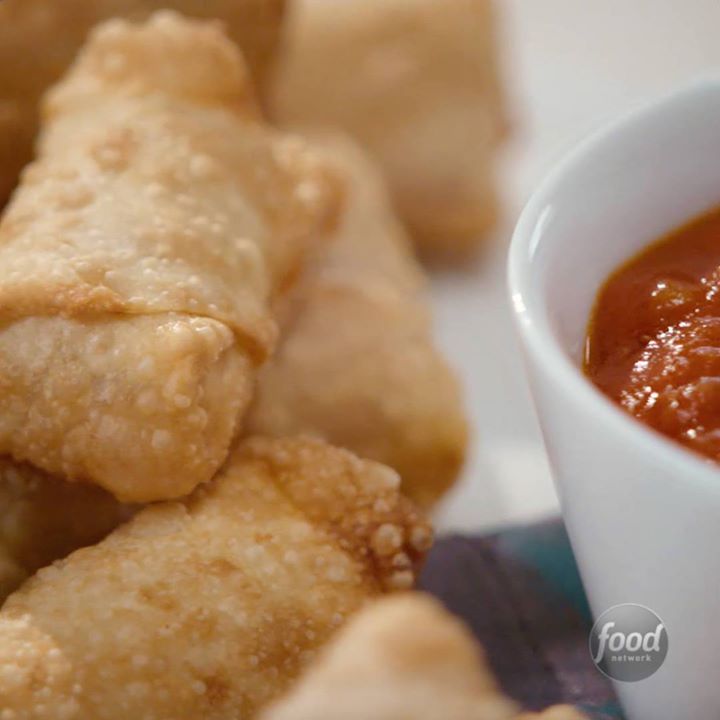 Ingredients
12 wonton wrappers
12 slices salami
4 string cheese sticks, cut into thirds
½ teaspoon dried oregano
1 egg, beaten
Vegetable oil, for frying
1 cup jarred marinara sauce, warmed
Instructions
Special equipment: a deep-frying thermometer
Working one wrapper at a time, fold a piece of salami in half and place it diagonally on a wrapper. Top with a piece of string cheese and a pinch of oregano--the cheese ends should point in the direction of 2 opposite wonton corners. Brush the edges of the wrapper with beaten egg. Orient the wrapper in a diamond, with the cheese parallel to you. Pull one corner of the wrapper up and over the cheese. Tuck in the side corners and roll the wrapper up like a package, making sure the edges and corners are well sealed. Repeat with the remaining wrappers and filling.
Place the egg rolls on a plate and refrigerate for at least 30 minutes.
Fill a Dutch with 2 inches of vegetable oil; fit with a deep-frying thermometer. Heat over medium heat until the oil reaches 350 degrees F.
Fry the egg rolls in batches of 3 to 5 until golden brown, 1 to 2 minutes, turning with a slotted spoon for even browning. Remove to a paper towel-lined tray to drain.
Serve the egg rolls with warm marinara alongside, for dipping.
Watch the recipe video here: