Clam Chowder
Clam Chowder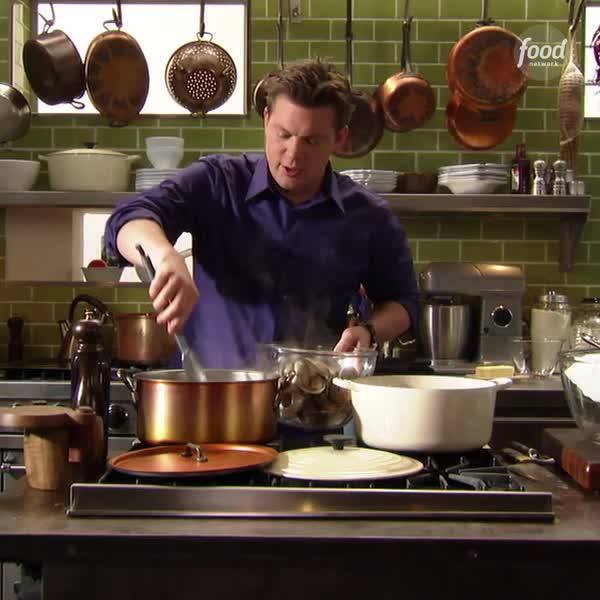 Ingredients
2 dozen littleneck clams
2 dozen cherrystone clams
1 quart water
1 head garlic, sliced in ½ horizontally
3 bay leaves
2 sprigs thyme, leaves picked
3 tablespoons unsalted butter
4 ounces pancetta, cut into cubes
1 celery stalk, diced
1 onion, diced
2 heaping tablespoons all-purpose flour
2 Yukon gold potatoes, peeled and cubed
2 cups heavy cream
1 cup milk
Freshly ground black pepper
1 handful flat-leaf parsley, finely chopped
Parmesan Oyster Crackers, recipe follows
Parmesan Oyster Crackers:
2 cloves garlic
Kosher salt and freshly ground black pepper
½ stick unsalted butter
2 tablespoons extra-virgin olive oil
2 cups oyster crackers
1 handful flat-leaf parsley, finely chopped
¼ cup grated Parmigiano-Reggiano
Instructions
Wash and scrub the clams to get rid of the dirt. Set the littlenecks aside in the refrigerator, and combine the cherrystone clams with the water, garlic, bay leaves, and thyme leaves in a large pot. Cover, and steam over medium-high heat until the clams have all popped open, about 15 minutes. Check every 5 minutes to pull out the clams that have opened (some take longer than others), and give the pot a stir. Pull the opened clams out of their shells and chop them roughly. Cover them and set aside. Pour the broth into a big bowl through a strainer that you've lined with cheesecloth, just in case there is leftover sand; set the broth aside.
Rinse out the pot and melt the butter over medium heat. Add the pancetta, celery, and onion. Saute this together for 5 minutes, until the vegetables soften. Sprinkle the flour into the pot; stir and coat everything well. Gradually pour in the strained clam broth, whisking constantly to break up any lumps of flour. When all the broth is incorporated, fold in the potatoes, and bring to a boil, stirring constantly for about 15 minutes. The soup will start to thicken from the potato starch.
Reduce the heat to low and fold in the cream, milk, and chopped clams. Toss in the littleneck clams and cover the pot to let them steam open, about 5 minutes. Season the soup with many turns of freshly ground black pepper and stir everything together to heat through, but do not let it boil. Serve this in nice big bowls with some chopped parsley and Parmesan Oyster Crackers.
Parmesan Oyster Crackers:
Preheat oven to 250 degrees F.
Chop garlic cloves then sprinkle with some salt and smash to make a paste. Set a large nonstick pan over medium heat. Add butter, oil and garlic and swirl pan. Add oyster crackers and chopped flat-leaf parsley and toss to coat. Spread out on a sheet tray, season with salt and pepper and sprinkle with shredded Parmigiano. Pop into the oven and bake for 25 to 30 minutes until golden and crispy.
Watch the recipe video here: