S'mores Sushi
Rice Krispies + s'mores = AMAZING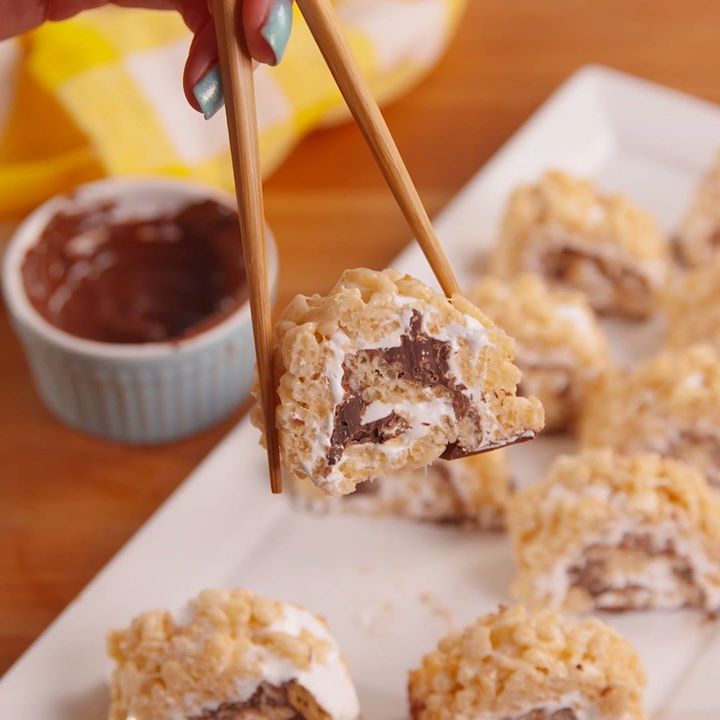 Ingredients
¼ c. butter
10 oz. mini marshmallows
5 c. Rice Krispies cereal
2 c. marshmallow Fluff
1 c. crushed graham crackers
1 c. semisweet chocolate chips, melted, plus more for serving
Instructions
Line a baking sheet with wax paper and grease with cooking spray. In a pot over low heat, melt butter. Add marshmallows and stir until melty. Turn off heat and immediately stir in cereal. Stir until completely coated.
Press mixture onto prepared pan and pat into a thin even rectangle. Spread fluff in a single layer and sprinkle with graham crackers, pressing in to make sure they stick. Pour melted chocolate over graham crackers and use a spatula to smooth into an even layer.
Slice sushi in half lengthwise, then roll up halves, starting from the long side.
Refrigerate until firm, 1 hour.
Slice into sushi rolls and serve with melted chocolate.
Watch the recipe video here:
S'mores Sushi exists and we're freaking out.Full recipe: http://dlsh.it/UihreoH

Posted by Delish on Thursday, February 22, 2018