Peri Peri Chicken Feast
Dig into this cheeky peri peri chicken feast with your mates this weekend ??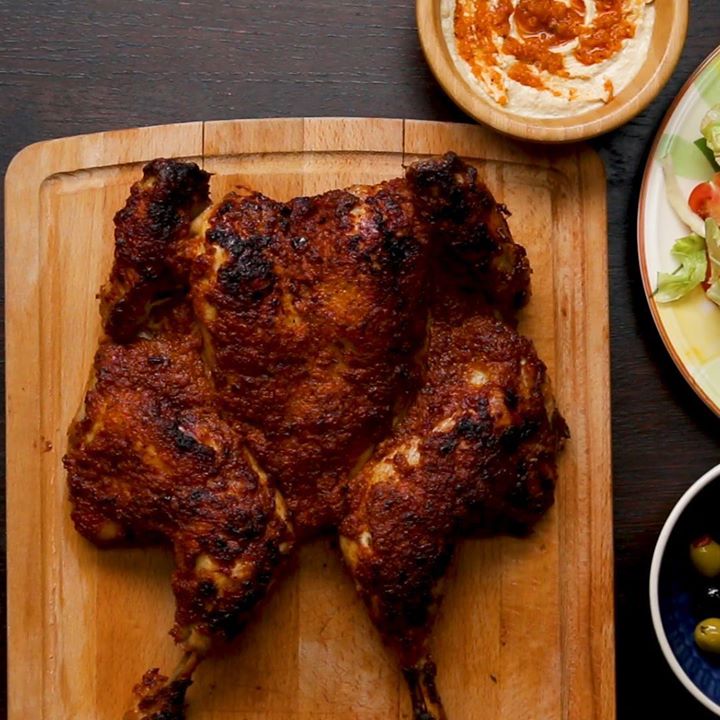 Ingredients
MARINADE
1 cup olive oil (200 mL)
½ cup white vinegar (120 mL)
8 bird-eye chillis
8 cloves garlic
2 medium onions
4 teaspoons dried oregano
4 teaspoons paprika
2 teaspoons sugar
4 teaspoons salt
2 teaspoons pepper
1 roasted pepper
1 lemon, juiced
PERI PERI CHIPS
1 lb chip (500 g)
½ teaspoon smoked paprika
½ teaspoon chili powder
½ teaspoon garlic powder
¼ teaspoon white pepper
1 teaspoon salt
SIDES
2 oz mayonnaise (50 g)
2 oz hummus (50 g)
Instructions
Remove the chicken's backbone by using a pair of kitchen scissors. Turn it over and flatten it down to spread the chicken out as much as possible.
Blend together all of the marinade ingredients in a food processor and spread half of it over the chicken.
Cover and marinate in the fridge for at least 3 hours or overnight.
Roast in the centre of a preheated oven for 60 minutes at 200°C (400°F), or until the thickest part of the thigh is 75°C. Once the chicken is cooked through, allow to rest for 10 minutes before serving.
Simmer the other half of the marinade for 2-3 minutes to make the Peri Peri sauce.
Use as a dip for your chicken or mix some into mayonnaise or hummus!
To make Peri Peri Chips, just shake some smoked paprika, chili powder, garlic powder and white pepper into your chips!
Enjoy!
Watch the recipe video here: