Eggplant Parmesan Meatloaf
Eggplant Parm, meet Meatloaf. Meatloaf, meet Eggplant Parm.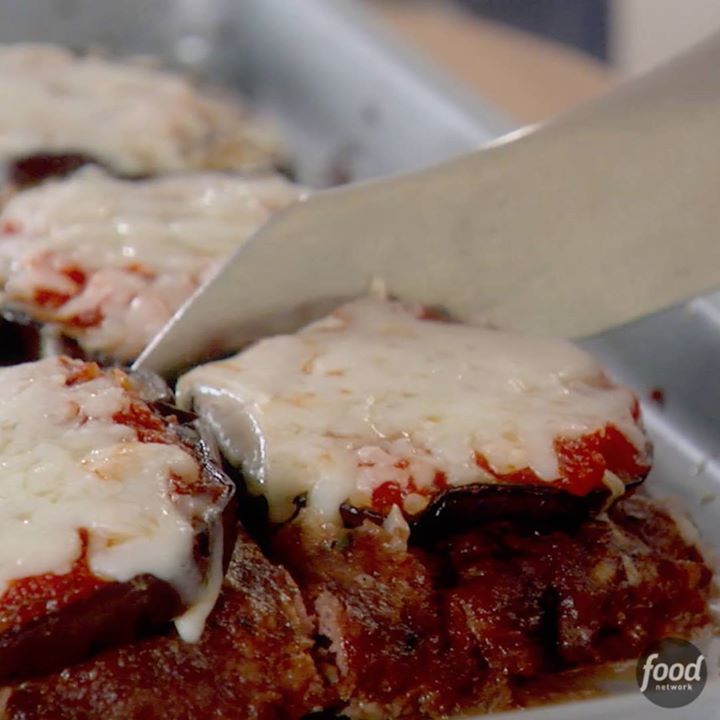 Ingredients
Meatloaf:
2 pounds ground beef
⅔ cup chopped fresh basil
⅔ cup finely grated Parmesan
⅔ cup jarred tomato-basil sauce, such as Giada De Laurentiis for Target
⅓ cup panko breadcrumbs
2 teaspoons kosher salt
1 teaspoon freshly ground black pepper
3 large cloves garlic, minced
2 large eggs, at room temperature
1 small onion, finely chopped
Eggplant:
¼ cup extra-virgin olive oil
1 medium eggplant, trimmed and cut into six to eight ½-inch-thick slices
¼ teaspoon kosher salt
¼ teaspoon finely ground black pepper
⅓ to ¾ cup of jarred tomato-basil sauce, such as Giada De Laurentiis for Target, plus extra for serving
½ cup coarsely grated whole milk mozzarella
Instructions
Preheat the oven to 375 degrees F.
For the meatloaf: In a large bowl, mix together the ground beef, basil, Parmesan, tomato-basil sauce, breadcrumbs, salt, pepper, garlic, eggs and onions until combined. Press the mixture onto the bottom of a nonstick baking sheet. Bake until cooked through or when an instant read thermometer registers 160 degrees F when inserted into the meatloaf, 20 to 25 minutes.
For the eggplant: In a large skillet, heat the oil over medium-high heat. In batches, add the eggplant slices and cook until lightly browned, 2 to 3 minutes. Turn the slices over and season with the salt and pepper. Cook for 2 to 3 minutes longer.
Arrange the eggplant slices on top of the meatloaf in a single layer. Spoon 1 to 1½ tablespoons of the tomato-basil sauce into the center of each eggplant slice. Top with the mozzarella and bake until the cheese is just melted, an additional 5 minutes.
Cut into 6 to 8 squares and serve with additional tomato-basil sauce.
Watch the recipe video here: