BBQ Chicken Nacho Poppers
BBQ Chicken Nacho Poppers recipe.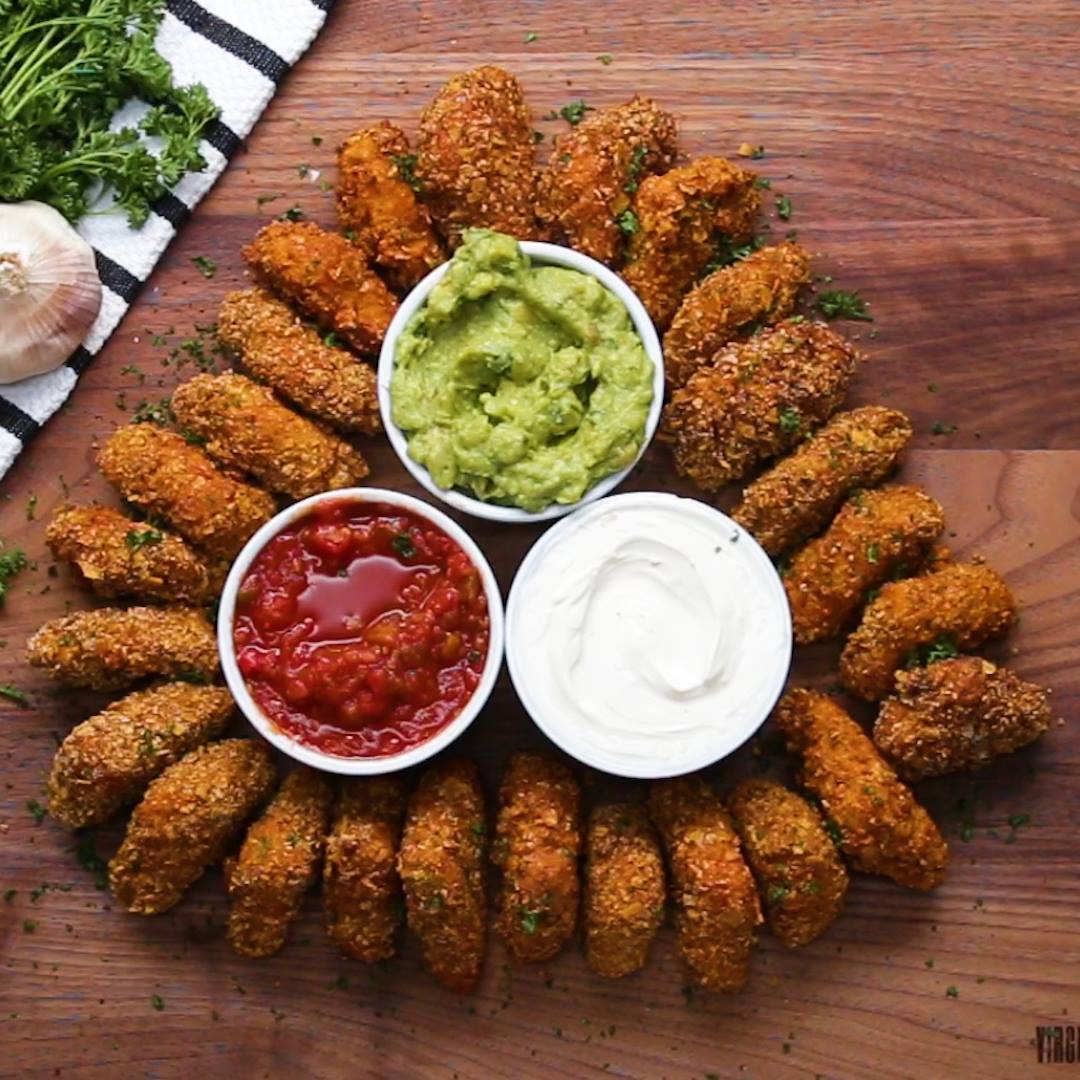 Ingredients
NACHO FILLING
8 oz (225 g) whipped cream cheese
3 cups (300 g) shredded cheese blend
2 cups (250 g) shredded chicken, cooked
½ cup (50 g) red pepper, diced
½ cup (50 g) green pepper, diced
2 tablespoons fresh parsley, finely chopped
½ cup (145 g) BBQ sauce
BREADING
3 cups (375 g) all-purpose flour
6 eggs, beaten
30 oz (850 g) nacho cheese chip, finely crushed
5 qt (4 L) vegetable oil, for frying
FOR SERVING
1 tablespoon fresh parsley, finely chopped, for garnish
1 ½ cups (335 g) guacamole
1 ½ cups (335 g) salsa
1 ½ cups (345 g) sour cream
Instructions
In a large bowl, combine the cream cheese, cheese, chicken, peppers, parsley, and barbecue sauce.
Transfer the mixture to a parchment paper-lined 9x9-inch (23x23-cm) square pan. Spread the mixture evenly and freeze for 1 hour, or until firm.
Cut the block into 32 triangle poppers.
Pour the flour, eggs, and crushed nacho chips into 3 separate medium bowls. Double bread the poppers by dipping them in the flour, egg wash, and nacho chips, then again in the egg wash and nacho chips.
Heat the oil in a large pot to 375°F (190°C).
Fry the poppers, four at a time, for 40 seconds, or until golden brown.
Sprinkle parsley on top of the poppers.
Serve with guacamole, salsa, and sour cream.
Enjoy!
Watch the recipe video here:
BBQ chicken nachos in a no-mess triangle shape ?FULL RECIPE: https://tasty.co/recipe/bbq-chicken-nacho-poppers

Posted by Proper Tasty on Saturday, July 14, 2018