Giant Multi-Stuffed Soft Pretzel
This giant multi-stuffed pretzel is full of suprises! 🥨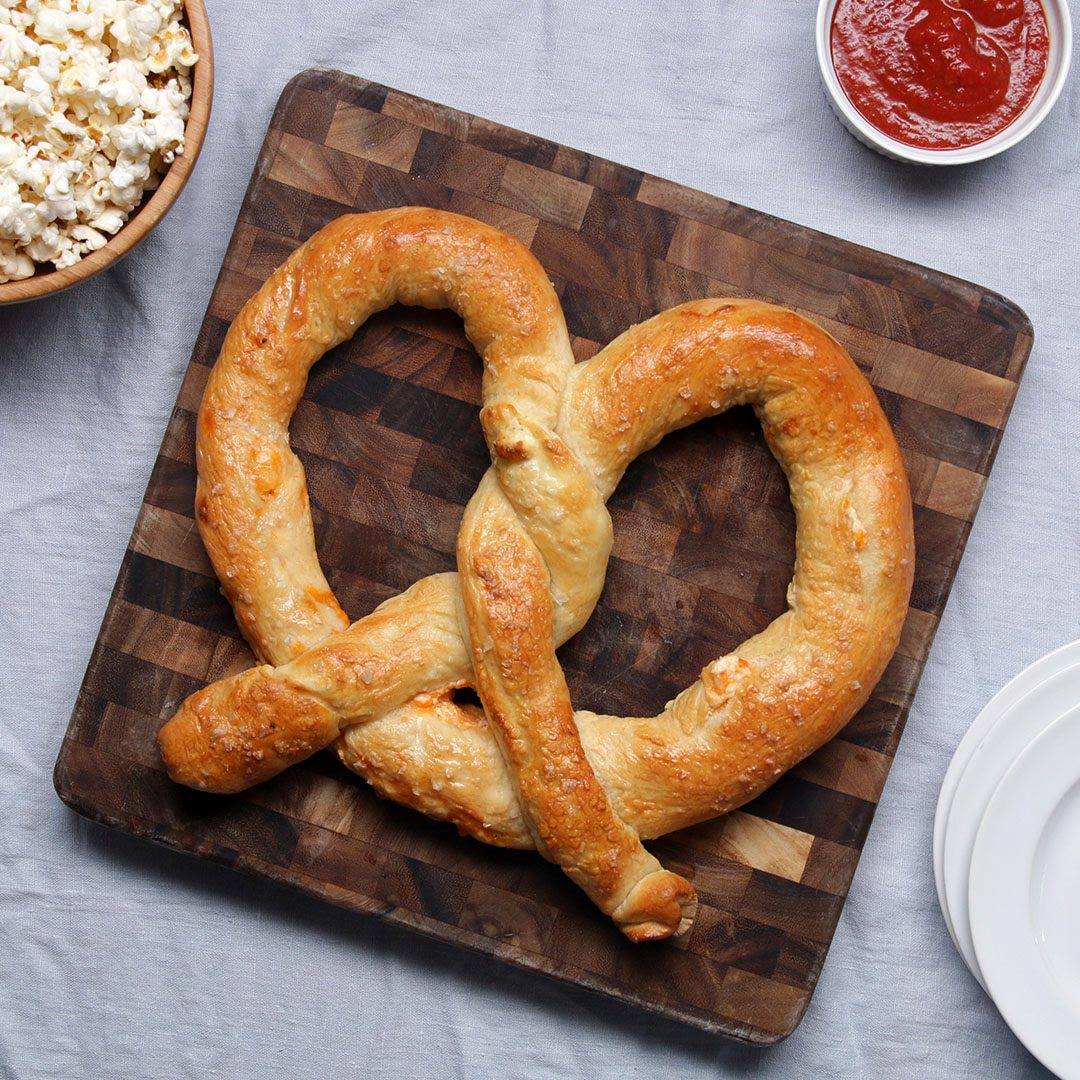 Ingredients
¾ cup (180 mL) warm water
1 ½ teaspoons sugar
1 ¼ teaspoons active dry yeast
2 ¼ cups (280 g) all-purpose flour
1 ½ teaspoons salt
2 tablespoons olive oil, divided
8 oz (225 g) cream cheese, softened
2 tablespoons shredded parmesan cheese
¼ cup (10 g) fresh chives, chopped
¼ teaspoon freshly cracked pepper
2 tablespoons pizza sauce
2 sticks mozzarella cheese, halved, lengthwise
2 tablespoons mini pepperoni
2 strips bacon, cooked and chopped
2 tablespoons shredded cheddar cheese
1 egg, beaten
coarse salt, for sprinkling
2 tablespoons unsalted butter, melted
Instructions
In a large bowl, whisk together the water and sugar. Add the yeast and let rest for 5 minutes, until it starts to foam.
Add the flour, salt, and 1 tablespoon of oil, and mix thoroughly until the dough comes together.
Remove the dough, grease the bowl with the remaining tablespoon of olive oil, then return the dough to the bowl and cover with a dish towel or plastic wrap. Let sit in a warm place for 1 hour, until the dough has doubled in size.
Preheat the oven to 400˚F (200˚C). Line a baking sheet with parchment paper.
Using your fingers or a rolling pin, stretch or roll the dough out into a long, thin strip, about 30 inches (76 cm) long and 4 inches (10 cm) wide.
Spread the softened cream cheese down the middle of the dough strip, leaving a 1-inch (2 cm) border on each end.
Sprinkle the Parmesan, chives, and black pepper over the first third of the cream cheese on the dough strip.
Spread the pizza sauce over the middle third of cream cheese. Place the mozzarella and pepperoni over the sauce.
Sprinkle the bacon and cheddar cheese over the cream cheese on the last third of the dough strip.
Fold and pinch the dough around the cheese fillings along the entire strip, ensuring the ends are closed. Roll slightly to seal and lengthen.
Carefully form a pretzel shape by taking the ends of the strip, making a "U" shape, twisting the ends around each other, and connecting the ends to the bottom of the "U" shape.
Transfer the pretzel to the prepared baking sheet and brush with egg wash. Sprinkle with coarse salt.
Bake for 25-30 minutes, or until golden brown.
Cool for 10 minutes, then brush with melted butter before serving.
Enjoy!
Watch the recipe video here:
Giant Multi-Stuffed Soft Pretzel

This giant multi-stuffed pretzel is full of suprises! 🥨FULL RECIPE: https://tasty.co/recipe/giant-multi-stuffed-soft-pretzel

Posted by Tasty on Saturday, July 14, 2018