Bacon Spinach Dip
There's spinach so it's basically a salad.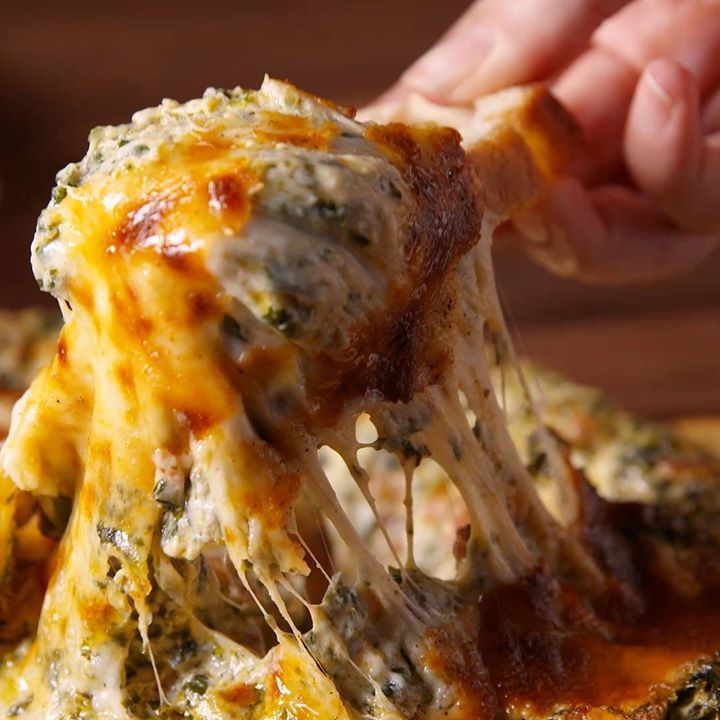 Ingredients
1 8- oz. block cream cheese, softened
⅓ c. mayo
⅓ c. sour cream
1 tsp. garlic powder
1 tsp. paprika
1 16- oz. package frozen spinach, thawed and squeezed of water
10 slices bacon, cooked and crumbled
1 c. grated Parmesan
1 c. shredded mozzarella
1 baguette, sliced
Instructions
Preheat oven to 350º. Stir together cream cheese, mayo, sour cream, garlic powder, and paprika until combined.
Fold in spinach, cooked bacon, Parmesan, and ¾ cup mozzarella. Transfer spinach mixture to baking dish and sprinkle with remaining ¼ cup mozzarella. (If mixture is very high in baking dish, place a baking sheet below dish to catch spillage.)
Bake until golden and bubbly, 25 to 30 minutes.
Make crostini: Drizzle bread with olive oil and season with salt. Toast until golden, 10 minutes. Rub with a garlic clove while still warm.
Serve with crostini.
Watch the recipe video here:
Cheesy Bacon Spinach Dip is the best dip we've ever made. Full recipe: http://dlsh.it/wfpwEQI

Posted by Delish on Saturday, December 23, 2017