Brulee Sweet Potato
Take sweet potatoes to the next level by BRULEEING sugar on top!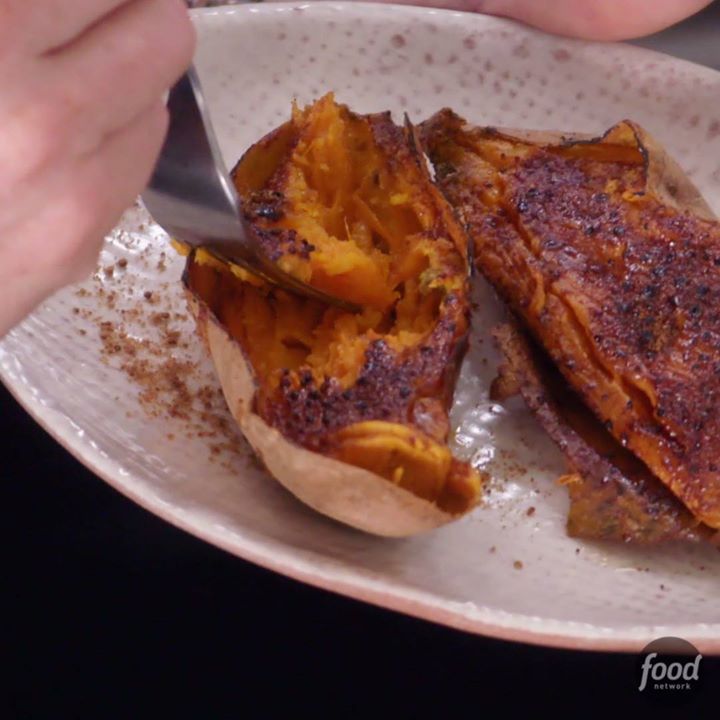 Ingredients
4 medium sweet potatoes
1 teaspoon ground cinnamon
1 teaspoon vanilla extract
4 tablespoons coconut sugar
Instructions
Preheat the oven to 400 degrees F.
Prick each sweet potato 7 or 8 times with a fork, then place the potatoes on a nonstick baking sheet.
Bake until very tender at the center and the skins are starting to wrinkle, 50 to 60 minutes. Remove from the oven and split the potatoes down the center to open.
Whisk together the cinnamon, vanilla extract and 2 teaspoons water. Brush the centers of the potatoes with the liquid. Cool completely in the refrigerator, about 2 hours.
When ready to serve, open the potatoes like a book and sprinkle each with 1 tablespoon coconut sugar. Using a kitchen torch, brulee the sugar until it melts and turns an even darker, almost black color. Allow to cool for 2 to 3 minutes, so the sugar firms up and becomes a tasty little crackle. Serve immediately.
Watch the recipe video here: