Berry-Stuffed French Toast For Two
Berry-Stuffed French Toast For Two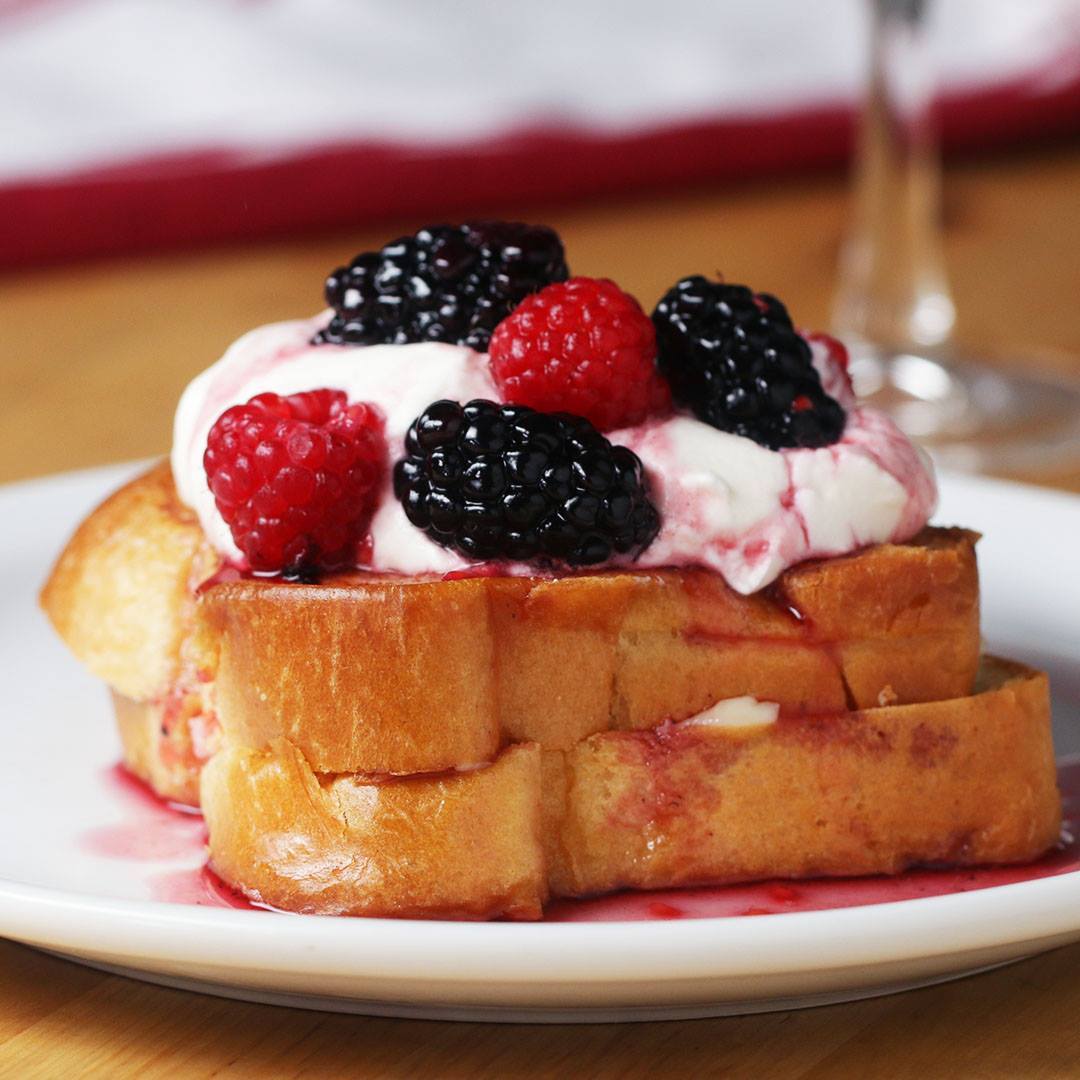 Ingredients
FILLING
1 cup raspberry (125 g)
1 cup blackberry (125 g)
2 tablespoons maple syrup, divided
1 tablespoon black raspberry liqueur
4 oz cream cheese, softened (115 g)
FRENCH TOAST
4 slices brioche bread
½ cup whole milk (120 mL)
1 large egg, beaten
2 tablespoons black raspberry liqueur
½ teaspoon salt
2 tablespoons butter
WHIPPED CREAM
½ cup heavy cream (120 mL)
1 tablespoon maple syrup
Instructions
Make the filling: Add the raspberries, blackberries, black raspberry liqueur, and 1 tablespoon of maple syrup to a large bowl. Stir and let sit for 10 minutes for the berries to macerate.
In a medium bowl, mix together the cream cheese and remaining tablespoon of maple syrup until smooth.
Spread the filling evenly over the 4 slices of bread. Arrange some of the berries on 2 slices of the bread and top with the other slices of bread. Press to seal the pieces together.
In a shallow dish, whisk together the milk, egg, black raspberry liqueur, and salt.
Melt the butter on a griddle or in a large skillet over medium heat. Quickly dip both sides of the bread pockets in the milk mixture, then transfer to the pan and fry on each side for about 3 minutes, until golden brown.
In a large bowl, beat the heavy cream until soft peaks form. Add the maple syrup and continue beating until the cream holds medium peaks.
Serve the stuffed French toast with a dollop of maple whipped cream and a scoop of macerated berries with their soaking liquid.
Enjoy!
Watch the recipe video here:
Berry-Stuffed French Toast for Two

This berry-stuffed French toast is the ultimate sweet breakfast! ??FULL RECIPE: https://tasty.co/recipe/berry-stuffed-french-toast-for-two

Posted by Tasty on Friday, June 15, 2018