Crunchy Jalapeño Taco Poppers
You can't wait to get a bite of these crunchy jalapeño taco poppers! ?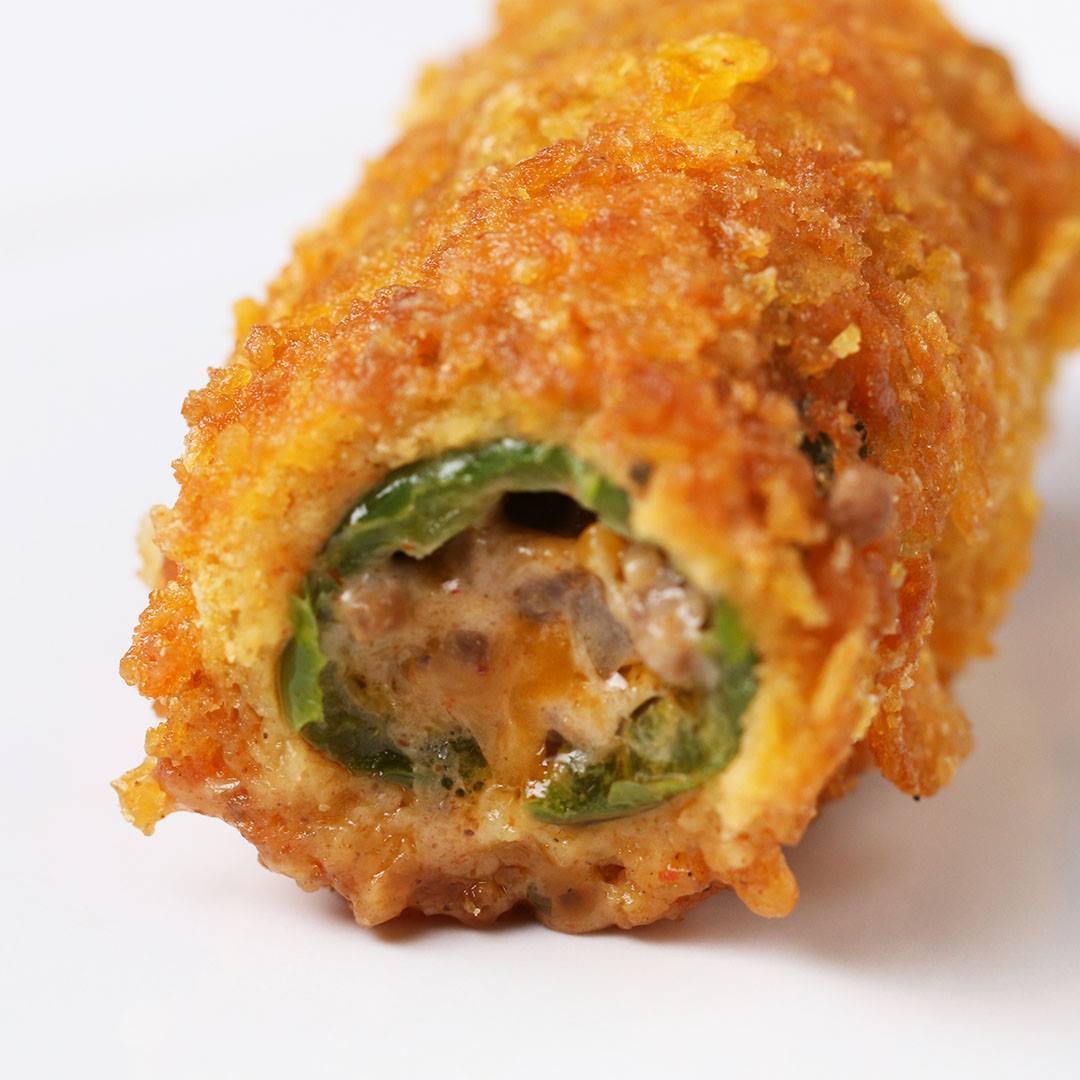 Ingredients
24 jalapeñoes
1 lb ground beef (455 g)
1 oz taco seasoning, 1 package (30 g)
2 teaspoons kosher salt, plus more to taste
1 teaspoon ground black pepper
¼ cup fresh cilantro, chopped (10 g)
2 tablespoons extra virgin olive oil
1 medium white onion, diced
2 cloves garlic, minced
1 cup shredded cheese blend (100 g)
½ cup cream cheese (110 g)
4 eggs, beaten
1 ½ cups flour, mixed with 1 tsp salt and 1 tsp pepper (185 g)
4 cups cornflake cereal, crushed (120 g)
1 cup cornflake cereal, finely ground (30 g)
8 cups canola oil (1.9 L)
¼ cup fresh cilantro, chopped (10 g)
fresh lime juice, for seasoning
salsa, for serving
Instructions
Slice the jalapeños lengthwise down the center, taking care to cut through only one side and leaving the pepper as intact as possible. Remove the seeds.
In a large bowl, combine the ground beef, taco seasoning, salt, pepper, and cilantro. Mix to combine.
Heat the olive oil in a large pan over medium heat. Cook the onion for 1 minute, then add garlic and cook another minute.
Add the beef mixture and cook until browned, approximately 5 minutes. Remove from the heat and let cool completely.
In a clean, large bowl, combine the cooled beef mixture, shredded cheese, and cream cheese.
Transfer the beef mixture to a piping bag or zip-top bag with a corner snipped off.
Pipe the beef mixture into the jalapeños, then close the peppers.
Heat a large pot filled with the oil until it reaches 325ºF (170ºC).
Add the seasoned flour, eggs, and cornflakes to 3 separate shallow bowls. Dip the peppers in the egg, then the flour, followed by the egg again, and then the cornflakes. Dip once more in the egg and finish with a second dip in the cornflakes.
Fry the peppers, in batches, for 2½ minutes until golden brown. Remove with a slotted spoon or tongs and drain on a wire cooling rack.
Season the peppers well with salt and fresh lime juice.
Serve warm with salsa for dipping.
Enjoy!
Watch the recipe video here: