Greek Chicken Cutlets
Golden-crispy panko fried chicken cutlets topped off with a vibrant Greek medley—what more could you ask for in a 20-minute meal? The veggie mixture served over the succulent chicken consists of a super flavorful blend of juicy tomato, bell pepper, refreshing cucumber, briny kalamata olives, salty feta, bright lemon juice, and plenty of fresh herbs… in other words, it's delicious. In fact, it wouldn't be a terrible idea to make a more than what you need, as this flavorful combo would make for an excellent addition to any number of other dishes. You could stir it into couscous or faro, spoon it over fish or pork, pile it into a pita pocket with hummus, or enjoy it simply over spinach for a salad.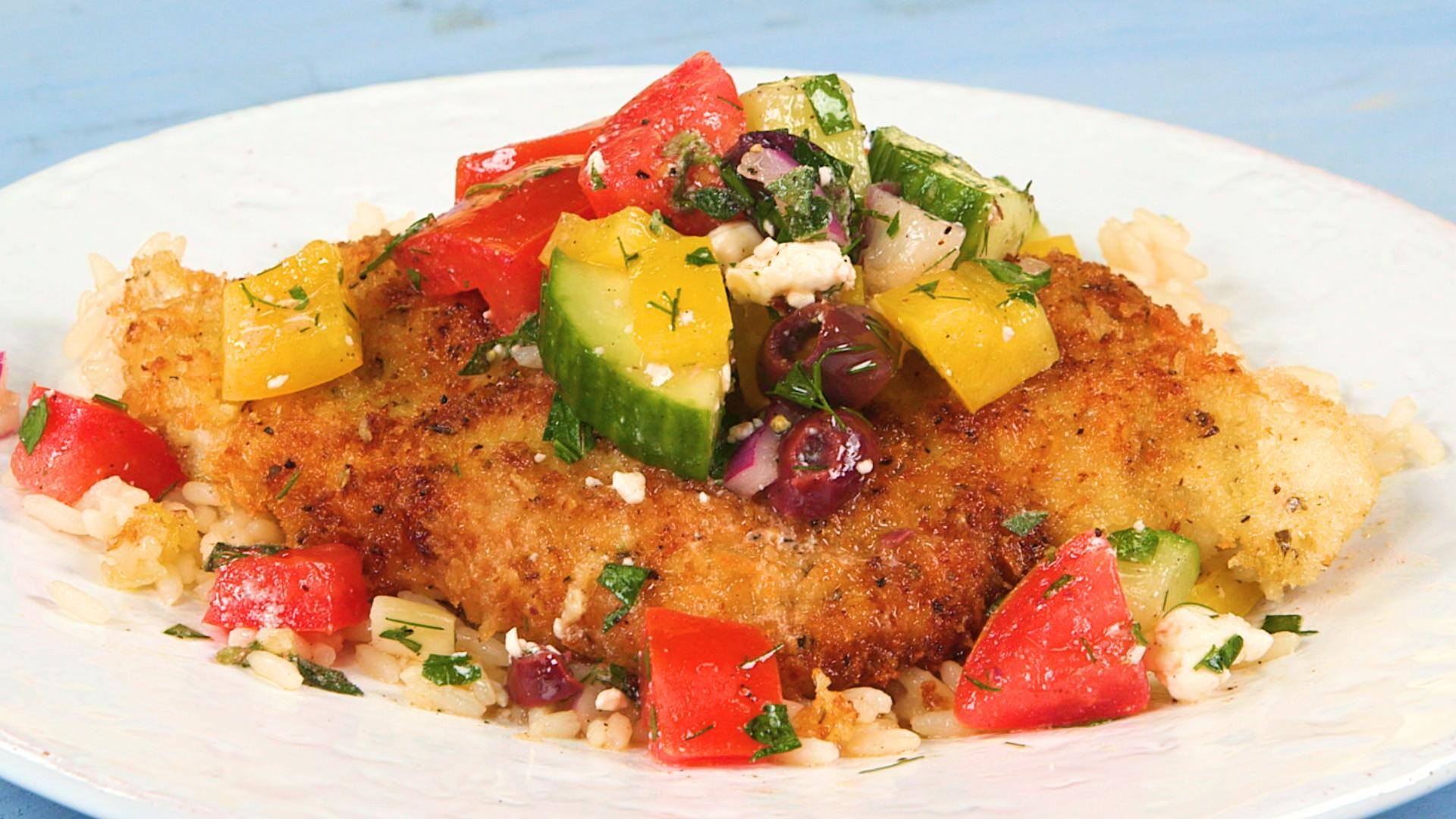 Ingredients
1 cup diced ripe tomato (from 1
large tomato)
¾ cup diced cucumber (from 1
large cucumber)
½ cup diced yellow bell pepper
(from 1 bell pepper)
¼ cup chopped fresh oregano
¼ cup pitted kalamata olives
1 tablespoon chopped fresh dill
1 tablespoon chopped fresh at-leaf
parsley
1 tablespoon fresh lemon juice (from
1 lemon)
1 tablespoon red wine vinegar
3 tablespoons olive oil, divided
¼ cup crumbled feta cheese
½ teaspoon black pepper
1½ teaspoons kosher salt, divided
1½ cups panko (Japanese-style
breadcrumbs)
1½ teaspoons granulated garlic
1½ teaspoons lemon pepper
1 teaspoon dried oregano
2 large eggs
4 (4-oz.) boneless, skinless chicken
breasts, pounded to ½-in.
thickness
Instructions
Preheat oven to 400°F. Stir together tomato, cucumber, bell pepper, fresh oregano, olives, dill, parsley, lemon juice, vinegar, and 1 tablespoon of the oil in a medium bowl until well combined. Fold in feta cheese, black pepper, and ½ teaspoon of the salt. Set aside.
Stir together panko, garlic, lemon pepper, dried oregano, and remaining 1 teaspoon salt in a shallow dish. Lightly beat eggs in a second shallow dish. Dip chicken cutlets, 1 at a time, in beaten egg, and dredge in panko mixture, pressing to adhere.
Heat remaining 2 tablespoons oil in a large cast-iron skillet over medium-high. Add cutlets, and cook until well browned, 2 to 3 minutes per side. Transfer skillet to preheated oven, and cook until chicken is cooked through, 3 to 5 minutes. Place 1 cutlet on each of 4 plates; top evenly with salad.
Watch the recipe video here: