Asparagus Fries
Potatoes beware, asparagus are dressing up as French fries. Thanks to a beer batter and hot oil, the green stalks are golden and crispy. Lemon aioli makes great dipping sauce and there are three seasoning options depending on what mood you are in.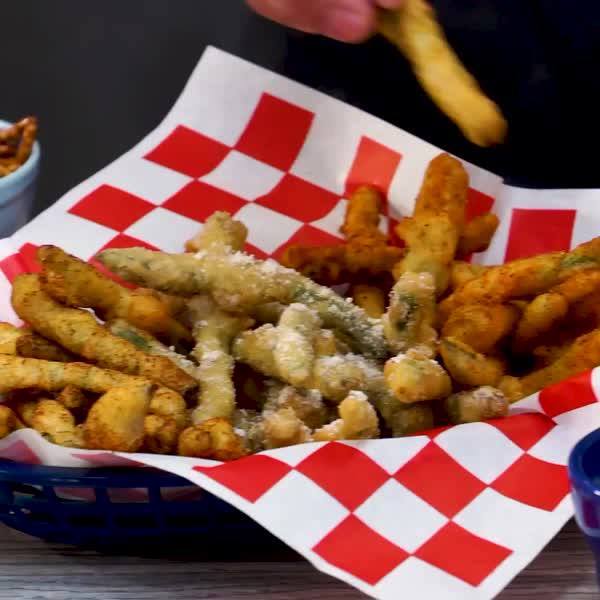 Ingredients
Chili-Lime Seasoning:
1 tablespoon chili powder
½ teaspoon kosher salt
Zest of 1 lime
Parmesan-Pepper Seasoning:
¼ cup grated Parmesan
½ teaspoon freshly ground black pepper
Old Bay Seasoning:
1 tablespoon seafood seasoning, such as Old Bay
Asparagus Fries:
Vegetable oil, for frying
½ cup mayonnaise
Zest and juice of 1 lemon
1 small clove garlic, grated
1 cup all-purpose flour
¼ cup cornstarch
1 teaspoon baking powder
1 cup lager, chilled
1 bunch pencil asparagus (about 1 pound), woody ends trimmed and stalks cut in half
Kosher salt and freshly ground black pepper
Instructions
Special equipment: a deep-frying thermometer
For the seasoning: Stir desired seasoning combination in a large bowl until well mixed.; set aside.
For the asparagus fries: Heat 2 inches of vegetable oil in a large heavy-bottomed saucepan over medium-high heat until a deep-frying thermometer registers 360 degrees F. Line a baking sheet with paper towels.
Meanwhile, whisk together the mayonnaise, lemon juice and garlic in a small bowl until well combined; set aside.
Whisk together the flour, cornstarch, baking powder and lemon zest in a medium bowl. Slowly pour in the lager and whisk until smooth. Dip half of the asparagus pieces into the batter, turning to coat completely and letting any excess drip off. Carefully add a few of the asparagus pieces at a time to the hot oil until all the battered pieces are added, then fry until golden brown on all sides and crisp-tender on the inside, 4 to 5 minutes. Transfer to the paper towels and sprinkle with salt and pepper. Repeat with the remaining asparagus pieces and batter, making sure to bring the oil back to 360 degrees F for the second batch.
Toss the warm fries in the bowl with the seasoning combination and serve with the lemon aioli.
Watch the recipe video here:
Recipe of the Day: Asparagus Fries ??Save this recipe: http://bit.ly/2w2nptO.

Posted by Food Network on Sunday, May 20, 2018