Spatchcocked Grilled Turkey
Spatchcock is a funny word, but it's a seriously smart way to cook a large bird: it roasts faster, and if you make it on the grill, you free up space in your oven to cook sides. Ask a butcher to remove both the back and breast bones from your turkey: this will ensure that it lies flat while grilling and both the white and dark meat will cook evenly.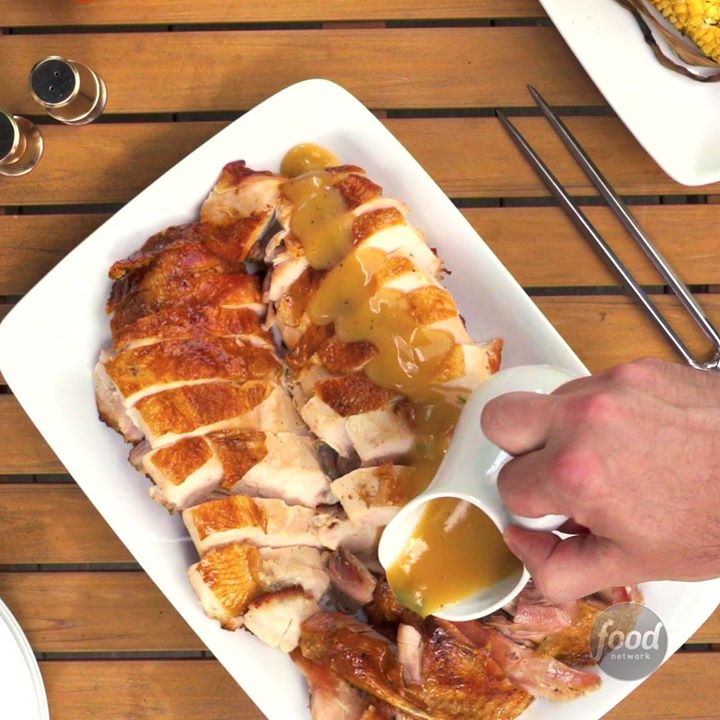 Ingredients
1 tablespoon granulated sugar
Kosher salt and freshly ground black pepper
One 12- to 14-pound turkey, butterflied (back and breast bones removed by your butcher)
Instructions
The day before roasting, combine the sugar, ¼ cup salt and 2 teaspoons pepper in a small bowl. Rub the turkey all over with the salt mixture. Refrigerate on a baking sheet, uncovered, at least 8 hours and up to overnight.
The next day, rinse the turkey and pat dry. Let sit at room temperature for 30 minutes.
Prepare a grill for medium indirect heat: For gas grills (with 3 or more burners), turn all the burners to medium-high heat; after about 15 minutes, turn off one of the middle burners and turn the remaining burners down to medium. For charcoal grills, bank one chimney starter full of lit and ashed-over charcoal briquettes to one side of the grill. Set up a drip pan on the other side to avoid flare-ups. (Be sure to consult the grill manufacturer's guide for best results.)
Place the turkey breast-side up over the drip pan and grill, covered, until the meat is cooked about halfway through, about 50 minutes. Turn and cook until an instant-read thermometer inserted in the deepest part of the thigh registers 170 degrees F, about 50 minutes more. Move the turkey to direct heat and rotate to evenly brown the skin in the last 10 minutes of cooking. Transfer to a cutting board, cover and let rest 10 minutes before carving.
Watch the recipe video here: