Fried Mac 'n' Cheese Jalapeño Nuggets
Ah, macaroni - how far you've come. Originally part of an ancient Greek funeral celebration, these little pasta tubes have benevolently colonised the world, from America to Hong Kong. The oldest known recipe for macaroni cheese comes from a manuscript written in 1390 - in short, we've been heavily into these little guys for a very long time. In this incarnation they are mixed with an assortment of cheeses, jalapenos and bacon then crumbed and deep fried to gooey, cheesy perfection.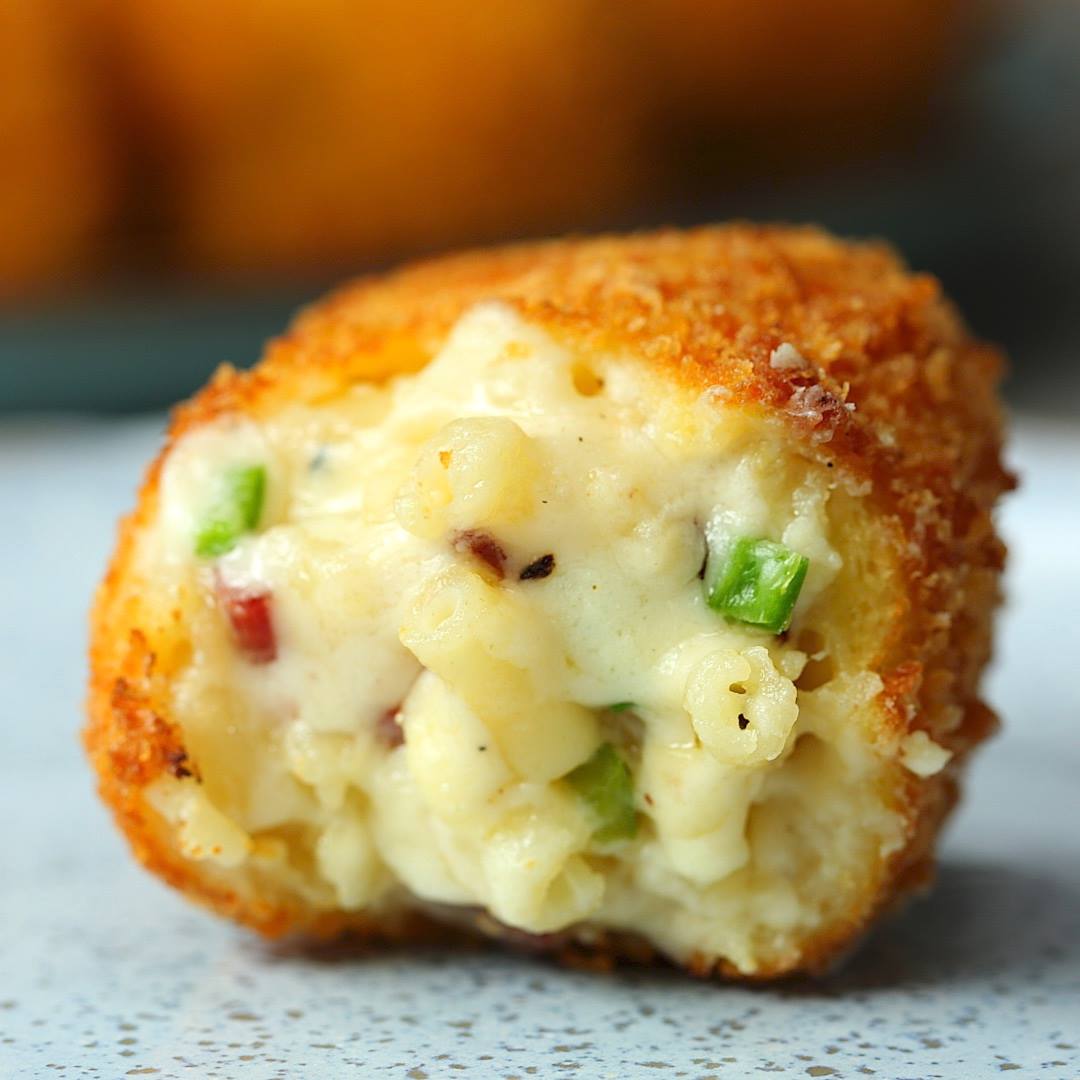 Ingredients
350g dried macaroni
1 ltr milk
350g mild cheddar, grated
150g cream cheese
8 bacon rashers, chopped and fried
50g parmesan, finely grated
3 jalapenos (fresh or pickled), finely chopped
1 tbsp salt
1 tsp pepper
200g mozzarella, grated
1 cup flour
4 eggs, beaten with a little milk
2 cups of panko breadcrumbs, seasoned
1 tbsp salt
Instructions
Add the macaroni and milk to a large pan. Bring to a gentle simmer, stirring all the time, and season the milk to taste.
After around 5 minutes the macaroni will have absorbed some of the milk and should be tender. The milk will have been thickened with starch and should resemble double cream - if it's too thick add a little hot water.
Take the pan off the heat and stir in the cheddar, parmesan, cream cheese, chopped jalapenos and season again. Finally, stir in the mozzarella, but try and leave some of it in chunks for stringiness later on.
Pour into a deep, clingfilm lined baking tray and smooth out the top.
Leave to set in the freezer for roughly an hour - don't allow it to freeze though.
Cut it into roughly 3cm squares.
Panne it - dip in the flour, egg wash, seasoned panko and back in the egg again to be panko'd one last time.
Heat the oil to around 170°C in a large stable pan and fry in batches of five or so until the coating is golden brown and crispy.
Watch the recipe video here: