GRILLED LOBSTER TAILS WITH HERB GARLIC BUTTER
Grilled Lobster Tails topped with Herb Garlic Butter are a delicious delicacy, and grilling them is super quick and easy!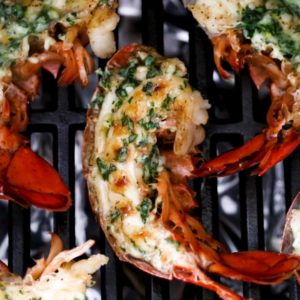 Ingredients
4 medium lobster tails, if frozen thawed
olive oil spray
pinch salt and pepper, to taste
lemon wedges, for serving
2 tablespoons Herb Garlic Butter, see below
Compound Butter:
8 tablespoons unsalted butter, 1 stick, at room temperature
¼ cup not packed minced fresh herbs (Italian parsley, chives or basil)
2 tablespoons minced garlic
½ teaspoon kosher salt
1 teaspoon lemon zest
1 teaspoon lemon juice
Reynolds Kitchens Quick Cut Plastic Wrap
Instructions
For the butter:
Place butter in a mixing bowl and use a rubber spatula to soften until it is very spreadable. Add remaining ingredients, and mix until thoroughly combined.
Place compound butter on the center a sheet of a sheet of plastic wrap or parchment paper. Shape into a round log, and twist the ends to seal. Place butter in the refrigerator to harden, at least 30 to 60 minutes. Once solid, it will be easy to slice.
For the Lobster:
Place each tail, shell side up, on a cutting board. Using a large sharp knife, cut through the shell directly down the center, beginning at the tail and down to where the body use to be.
Season the exposed meat with pinch of salt and fresh cracked black pepper, to taste and spritz with olive oil.
Preheat grill to medium high, clean and oil the grates. To cook, place each tail half directly on the grate flesh side down and close the hood. Cook about 1½ minutes, then turn 45 degrees (to cross-hatch), close the hood and grill for another 1½ minutes.
Remove the tails to a pan and spread each one with ½ tablespoon of butter.
Return the tails to the grill, flesh side up. Close the hood and allow them to grill for another 3 to 5 minutes depending on the size, until the tail meat is opaque and firm to the touch.
Remove the tails, serve with lemon wedges.
Watch the recipe video here:
Add some steaks and make it Surf and Turf! 2 Freestyle Points 177 Calorieshttps://www.skinnytaste.com/grilled-lobster-tails-with-herb-garlic-butter/

Posted by Skinnytaste on Sunday, May 26, 2019