Avocado Pesto with Zucchini Pasta
This is a delicious low-carb alternative to your standard pesto pasta. Filled with diced chicken breast, vegetables, protein and healthy fat, it is sure to satisfy every craving!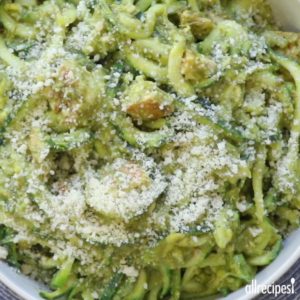 Ingredients
3 zucchini, trimmed
1 ripe avocado - peeled, halved, and pitted
5 tablespoons pesto, or more to taste
1 skinless, boneless chicken breast
½ teaspoon paprika
1 pinch salt and black pepper to taste
olive oil, divided
2 tablespoons grated Parmesan cheese (optional)
Instructions
Make zucchini noodles using a spiralizer.
Mash avocado in a small bowl and mix in pesto until smooth.
Flatten chicken breast with a meat hammer. Season on both sides with paprika, salt, and black pepper.
Heat 1 tablespoon olive oil in a large skillet over medium heat. Cook chicken until golden and an instant-read thermometer inserted into the center reads at least 165 degrees F (74 degrees C), about 6 minutes per side. Cool until easily handled, about 5 minutes; dice into small pieces.
Heat remaining 1 tablespoon olive oil in a large skillet over medium heat. Add zucchini noodles; cook and stir until softened, 5 to 7 minutes. Stir in avocado pesto mixture and diced chicken; cook until flavors combine, 3 to 5 minutes. Sprinkle Parmesan cheese on top before serving.
Watch the recipe video here: