12 Layer Turkey Pesto Panini Bread Bowl
12 Layer Turkey Pesto Panini Bread Bowl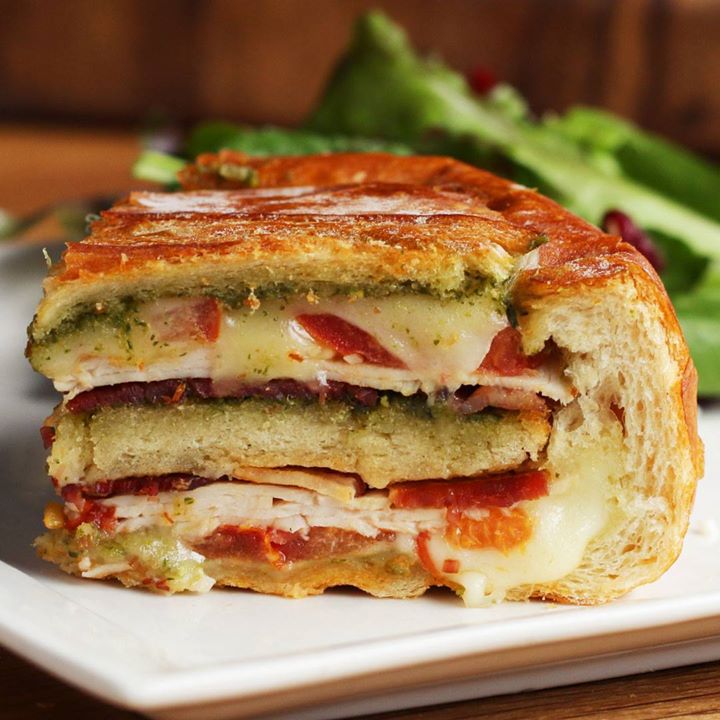 Ingredients
PESTO
4 cups (160 g) fresh basil, washed and dried
2 cloves garlic
⅓ cup (40 g) pine nuts
½ cup (120 mL) olive oil
½ cup (55 g) grated parmesan cheese
1 teaspoon salt
PANINI
1 bread, medium round loaf
½ tablespoon unsalted butter, melted
7 slices mozzarella cheese
8 slices tomato
10 slices turkey
8 slices bacon, cooked and chopped
Instructions
Preheat the oven to 400°F (200°C).
Make the pesto: In a food processor, combine the basil, garlic, pine nuts, and olive oil. Blend for 30 seconds, or until thick and saucy.
Add the Parmesan and salt and blend for another 30 seconds, or until thoroughly combined.
Cut the top off the loaf of bread. Use a serrated knife to cut a circle in the center of the bread, then use a large spoon to scoop out the inside. Try to keep bread in one piece.
Use a rolling pin to roll the excess bread into one flat piece of bread. Spread melted butter on both side of the rolled out bread and bake for 10 minutes, or until golden brown.
Remove the toasted bread from the oven.
Assemble the sandwich: Place bread bowl in an oven-safe pan. Spread pesto on the bottom of the inside of the bread bowl, then layer in half of the mozzarella slices, 4 slices of tomatoes, 5 slices of turkey, and 4 chopped slices of bacon.
Top with the toasted bread and brush with pesto. Add the remaining bacon, turkey, tomato, and cheese. Finally, spread pesto on the bottom lid of the bread and over the cheese. Place the lid of bread on top of it and then press down with a heavy oven-safe pan.
Bake for 20 minutes, or until golden brown.
Enjoy!
Watch the recipe video here: