Deep-Dish Frito Pie
Three words: fancy Frito® pie. We love eating the classic out of the bag (who doesn't?) but this deep-dish version is packed with Frito® flavor -- in the crust, chili and topping.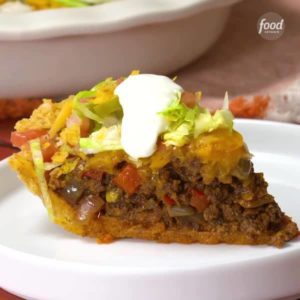 Ingredients
6 ounces Fritos® (4½ cups), plus more for serving
1 cup all-purpose flour (see Cook's Note)
1 large egg, lightly beaten
8 ounces sharp Cheddar, shredded
Kosher salt and freshly ground black pepper
1 tablespoon olive oil
1 pound ground beef (80/20)
4 cloves garlic, finely chopped
1 red bell pepper, stemmed and seeded, chopped
½ medium onion, chopped
¼ cup chili powder
1 tablespoon tomato paste
1 teaspoon ground cumin
1 cup low-sodium chicken broth
1 tablespoon cornstarch
For Serving:
Sour cream, guacamole, pico de gallo, shredded iceberg lettuce, pickled jalapeno slices, chopped onion and fresh cilantro leaves
Instructions
Position a rack in the center of the oven and preheat to 350 degrees F.
Pulse 4 ounces (3 cups) of Fritos® in a food processor until finely ground. Remove and reserve half of the Frito® crumbs. Add the flour, egg, 2 ounces (1/2 cup) Cheddar, 2 to 3 tablespoons of water and 1 teaspoon salt to the crumbs in the food processor. Pulse until a uniform dough forms, add an additional tablespoon of water if needed.
Transfer the dough to a 9-inch pie pan and use the bottom of a measuring cup to press evenly across the bottom and up the side of the pan. Prick holes in the bottom of the dough with a fork. Bake until lightly browned, 15 to 20 minutes. Set aside while making the chili.
Meanwhile, heat the oil in a large skillet over high heat. Add the beef and cook, breaking it up with a wooden spoon, until browned but not completely cooked through, 6 to 8 minutes. Transfer to a medium bowl with a slotted spoon, leaving behind as much fat in the skillet as possible. Reduce the heat to medium, add the garlic, bell pepper and onion and cook, stirring, until tender but not browned, 6 to 8 minutes. Add the chili powder, tomato paste and cumin and cook, stirring, until fragrant, about 1 minute. Add the chicken broth and reserved beef along with any accumulated juices to skillet. Bring to a simmer and cook, stirring and scraping up any brown bits from the skillet, until the liquid is almost evaporated, 6 to 8 minutes. Season to taste with salt and pepper. Add the cornstarch, reserved Frito crumbs and 2 ounces (1/2 cup) Cheddar and stir until combined.
Transfer the chili to the pie crust, top with the remaining 4 ounces (1 cup) Cheddar, cover with foil and bake until the cheese is melted and the filling is bubbly, 15 to 20 minutes. Remove the foil and bake, uncovered, for 5 minutes more. Let cool 15 minutes then top with a layer of sour cream, guacamole and pico de gallo. Mound iceberg lettuce on top and sprinkle with pickled jalapeno slices, chopped onion, remaining Fritos and fresh cilantro leaves.
Cook's Note
When measuring flour, we spoon it into a dry measuring cup and level off excess. (Scooping directly from the bag compacts the flour, resulting in dry baked goods.)
Watch the recipe video here: