Pesto Salmon Puff Pastry
Pesto Salmon Puff Pastry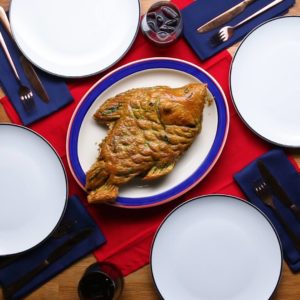 Ingredients
½ cup pesto sauce (115 g)
2 sheets frozen puff pastry, thawed
9 oz salmon fillet (255 g)
1 teaspoon salt
1 teaspoon pepper
5 leaves fresh basil, julienned
2 eggs, beaten
Instructions
Preheat the oven to 375°F (190°C). Line a baking sheet with parchment paper.
In a small bowl lined with a strainer, strain the pesto. Set aside the pesto and pesto oil.
Gently unfold and unroll 1 sheet of puff pastry. Roll out to 11 inches (28 cm) by 16 inches (40 cm). Transfer the puff pastry to the baking sheet.
Spread half of the pesto onto the middle of the puff pastry in the shape of the salmon fillet. Place the salmon on top of the pesto. Season with salt and pepper. Spread more pesto on top of the salmon.
Place the other sheet of puff pastry on top of the salmon and press around the salmon fillet to seal. Cut a fish silhouette around the salmon and remove the excess puff pastry.
Unfold the head flap of the fish pastry. Brush pesto on the puff pastry and layer a small piece of puff pastry on top of the pesto. Repeat once more and refold the head flap.
Seal the edges by pressing onto the seams of the fish silhouette.
Use a knife to make indents for the head and fin details.
Use the tip of the spoon to create indents of the scales.
Brush the pastry with egg wash.
Bake for 40 minutes, or until golden brown.
In a small bowl combine the pesto oil and basil. Brush the pastry with the basil pesto oil.
Slice and serve while hot.
Enjoy!
Watch the recipe video here: