Red Velvet Churros
What's not to love about cinnamon-sugar covered red velvet churros paired with a sweet cream cheese dipping sauce?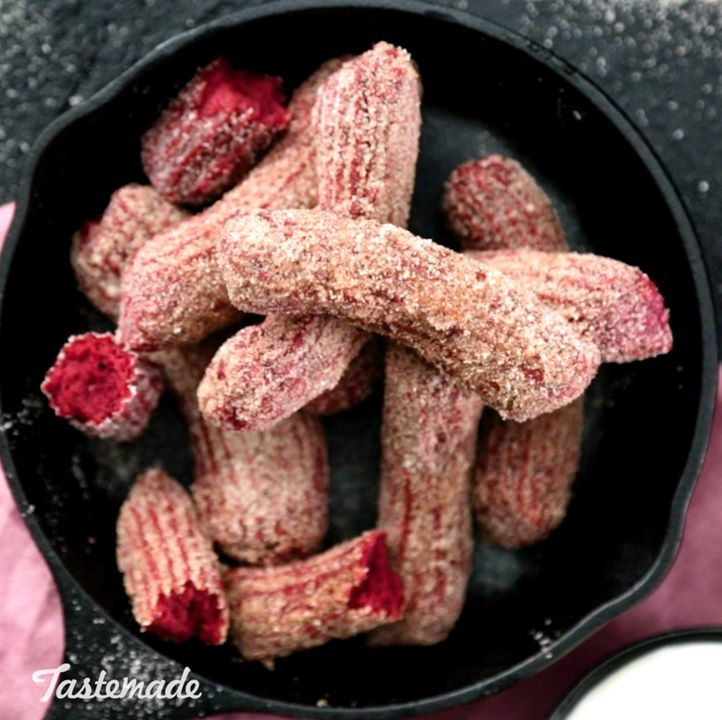 Ingredients
For the churros:
1 cup water
½ cup butter
Red food dye
¼ teaspoon salt
1 cup minus 1 tablespoon flour
1 tablespoon cocoa powder
3 eggs, beaten
Cinnamon sugar (1/2 cup granulated sugar mixed with 1 teaspoon cinnamon)
For the cream cheese dip:
4 ounces cream cheese, softened
2 to 4 tablespoons whole milk
¼ cup powdered sugar
Pinch of salt
Instructions
Make the churro dough: In a medium saucepan, combine water, butter and red dye. Bring to a boil over high heat. While stirring, gradually add the flour, cocoa powder and salt. Continue to mix until a dough ball starts to form. Cook for another minute. Remove from heat.
Transfer dough to a stand mixer with the paddle attachment. While dough is still warm, beat in one egg at a time on high speed. Dough might look like it's separating but it will come together. Mix until all eggs are combined and dough is smooth. Place in piping back with a star tip.
Fry the churros: In a heavy stock pot, heat 4 inches of vegetable oil to 350 degrees. Using the piping bag, squeeze churro dough strips into oil, and cook for about 2 minutes per side. Remove from oil, and let cool slightly. Roll churros in cinnamon sugar.
Make the dip: In a small bowl, combine softened cream cheese, milk, powdered sugar and pinch of salt until creamy and smooth. Serve alongside churros.
Watch the recipe video here:
Red. Velvet. Churros. Eat 'em quick or you'll have to share.Save this recipe: taste.md/2h2TAywMORE RECIPES ON OUR APP ?: taste.md/2y2Frcp

Posted by Tastemade on Thursday, September 14, 2017