Instant Pot Chili Lime Salmon
I love salmon, and this recipe is super healthy and super flavorful. Elegant enough for a special dinner but fast enough for a weeknight meal, this dish has it all. And using the Steam mode of the Instant Pot makes this meal as easy as it is tasty! And as if salmon were not fantastic all by itself, this spicy sauce is to die for. Lime juice and zest are perked up by diced jalapeno and just a touch of spices like cumin and paprika. Delicious and pretty, too! Fish is a great way to eat healthier. Salmon is one of the best sources of Omega-3s, plus it's rich in protein, B vitamins, and antioxidants. This superfood should make it into your diet more often, and this recipe is a fast and tasty way to make that happen. Remember to remove the seeds from the jalapeno unless you really love it spicy. Alternatively, you can cool it down further by removing the whitish inner veins of the pepper before dicing. Want to cool it off a touch more? Omit the jalapeno and substitute your favorite hot sauce.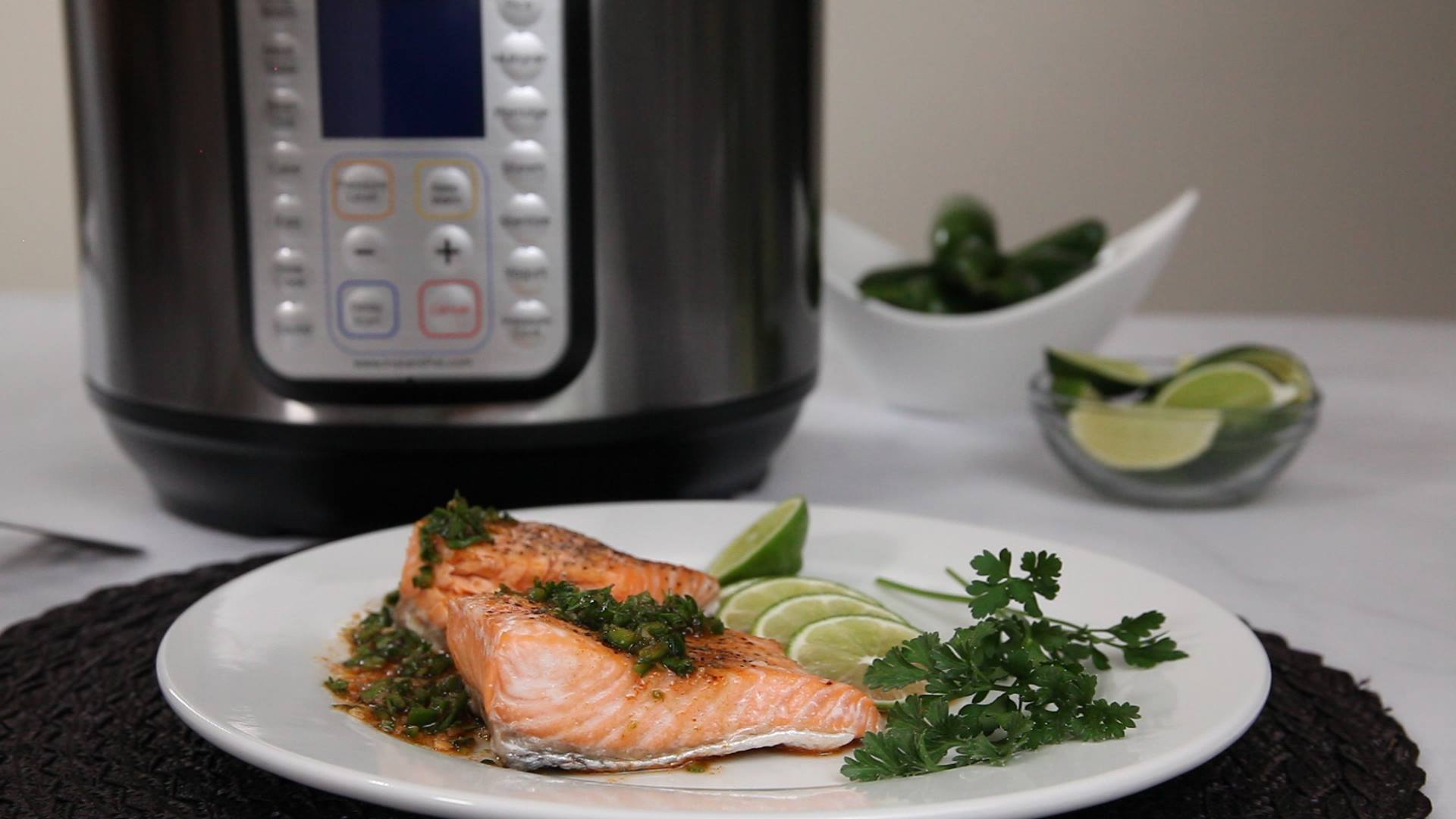 Ingredients
Sauce Mixture:
1 jalapeno, seeds removed, diced
2 cloves garlic, minced
1 tbsp fresh parsley, chopped
1 tbsp lime juice
1 tbsp olive oil
1 tbsp honey
1 tbsp water
½ tsp paprika
½ tsp cumin
½ tsp lime zest
For Fish:
2 5 oz salmon fillets (or trout or snapper)
1 cup water
½ tsp kosher salt
⅛ tsp pepper
Instructions
Combine Sauce Mixture ingredients in a large liquid measuring cup or other bowl with a spout. Set aside.
Pour one cup of water in the Instant Pot and insert the trivet.
Season the salmon filets with salt and pepper and place them on the trivet.
Secure the lid, making sure the vent is closed.
Using the display panel select the STEAM function*. Use the +/- keys and program the Instant Pot for 5 minutes.
When the time is up, quick-release the remaining pressure.
Serve the salmon with the sauce drizzled over the top.
Watch the recipe video here: