Chicken Meatball Soup
Chicken Meatball Soup recipe.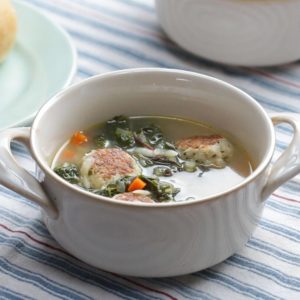 Ingredients
CHICKEN MEATBALLS
1 lb ground chicken (455 g)
½ cup panko bread crumbs (25 g)
1 large egg
½ cup grated parmesan cheese (55 g)
2 cloves garlic, minced
¼ cup fresh parsley (10 g), finely chopped
1 teaspoon kosher salt
½ teaspoon pepper
SOUP
2 tablespoons olive oil, divided
1 cup white onion (150 g), diced
½ cup carrot (60 g), diced
½ cup celery (110 g), diced
2 cloves garlic, minced
8 cups chicken stock (2 L)
1 bay leaf
1 cup dry orzo pasta (145 g)
4 cups swiss chard (400 g), roughly chopped
3 tablespoons grated parmesan cheese
kosher salt, to taste
pepper, to taste
1 tablespoon lemon juice
Instructions
In a medium bowl, combine the ground chicken, bread crumbs, egg, Parmesan, garlic, parsley, salt, and pepper. Mix well, then form into 1-inch (2 cm) meatballs. You should have 16-18 total.
In a large pot, heat 1 tablespoon of olive oil over medium heat. Sear the meatballs on all sides until golden brown, 4-5 minutes. Remove from the pot and set aside.
In the same pot, heat the remaining tablespoon of oil. Add the onion, carrot, and celery and cook, stirring occasionally until tender, 3-4 minutes. Add the garlic and cook until fragrant, 1-2 minutes.
Add the chicken stock and bay leaf. Cover and bring to a boil.
Once boiling, add the orzo and meatballs. Cover and simmer for 7-8 minutes, until the orzo is tender.
Add the Swiss chard, cover, and cook for 2-3 minutes until the chard has wilted.
Add the Parmesan cheese and season to taste with salt and pepper. Add the lemon juice.
Ladle into bowls and serve.
Enjoy!
Watch the recipe video here: