Curry Puffs 2 Ways
Curry Puffs 2 Ways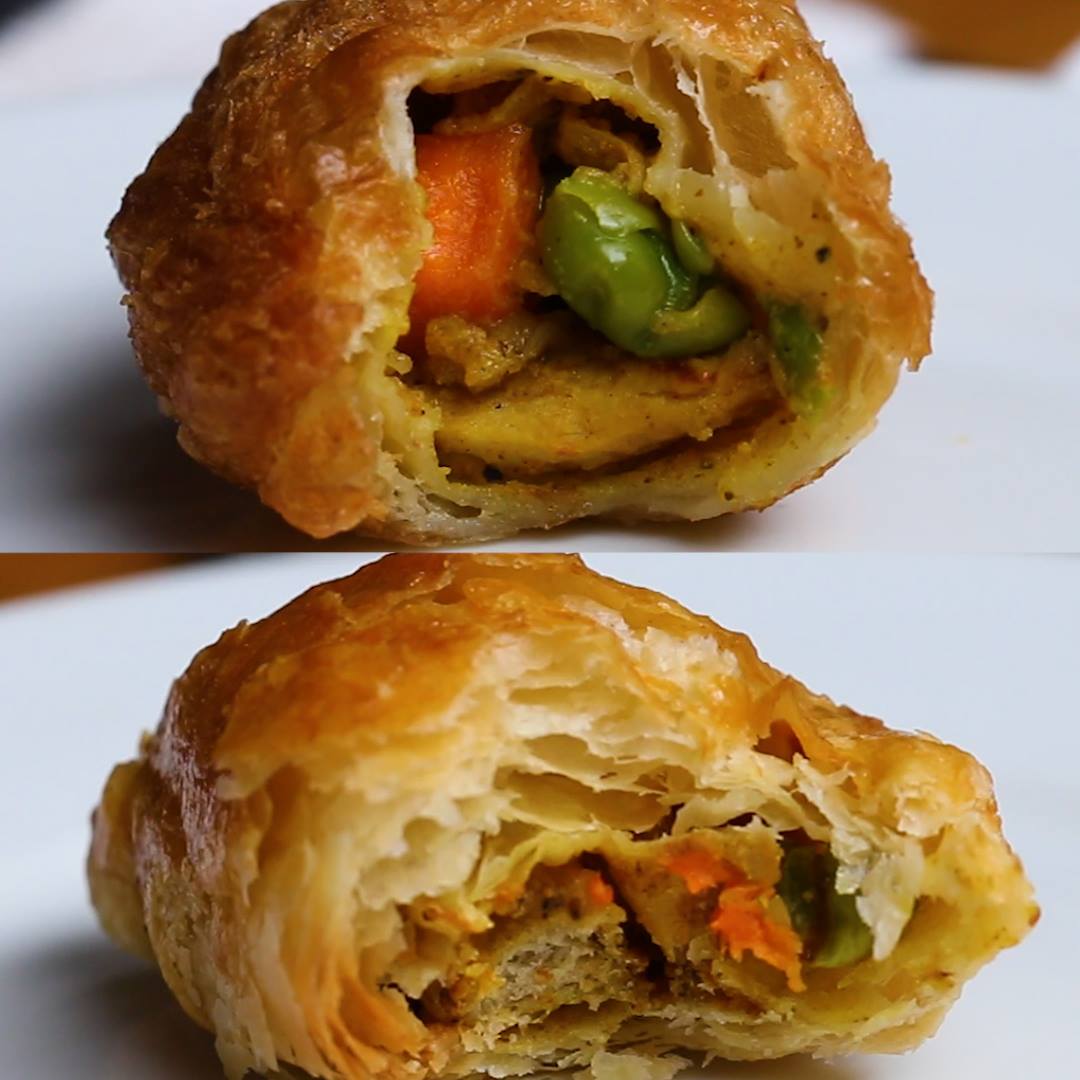 Ingredients
1 tablespoon vegetable oil
½ medium white onion, diced
1 ½ lb chicken breast, cubed (680 g)
2 teaspoons salt
1 teaspoon black pepper
1 teaspoon ground cumin
2 tablespoons curry powder
½ teaspoon cayenne
2 medium russet potatoes, cooked and diced
1 cup frozen peas, cooked (150 g)
1 cup frozen carrot, cooked (120 g)
2 cups whole milk (480 mL)
all-purpose flour, for dusting
4 sheets puff pastry, thawed
1 egg, beated, if baking
Instructions
Preheat the oven to 350°F (180°C), or heat a large pot filled halfway with cooking oil to 350°F (180°C). Place a wire rack on top of a baking sheet.
In large pan, add the vegetable oil, onion, chicken, salt, pepper, cumin, curry powder, and cayenne. Cook for 10 minutes, stirring occasionally, until the onion softens.
Add the potatoes, peas and carrots, and milk and stir to combine. Cook for 10 minutes, stirring to break up the potatoes, until the curry thickens to the consistency of mashed potatoes. Remove the pan from the heat and let the curry cool for 30 minutes.
Dust a clean surface with flour and roll out the puff pastry to flatten the seams.
Using a wine glass, cut out 8 circles from each pastry sheet.
Scoop 1 tablespoon of the cooled curry filling in the center of a puff pastry circle. Fold the puff pastry in half, press the edges together, and seal the edges in a folding and rolling motion.
If baking, place the curry puffs on the prepared baking sheet and brush with the egg wash. Bake for 15 minutes, or until golden brown.
If frying, add the curry puffs to the hot oil in batches and fry for 5 minutes, until golden brown.
Let cool for 10 minutes before serving.
Enjoy!
Watch the recipe video here:
These curry puffs will blow you away! ?FULL RECIPE: https://tasty.co/recipe/curry-puffs-2-ways

Posted by Tasty on Friday, August 3, 2018